31st Annual Architect Survey
The 31st Annual Metal Architecture Architects Survey is a sea of positive numbers from one end to the other. After several years of declining fortunes and uneven growth, 2016 played out as a year of expansion and increased activity. Whether it's metal wall panels, metal roofs or metal building systems, architects report increased specification of materials in 2016 compared to 2015. In addition, our survey respondents point to an even stronger 2017, anticipating increased construction activity and greater involvement in the metal construction industry.
That increased confidence is bolstered by the economists' view of 2017. The 2017 Dodge Construction Outlook from Dodge Data & Analytics, National Harbor, Md., predicts U.S. construction starts will increase 5 percent to $713 billion in 2017. Last year, starts increased 1 percent, which was lower than expected after a robust 11 percent increase in 2015.
FMI Corp., Raleigh, N.C., reports in its 2017 U.S. Markets Construction Overview that the confidence extends to all market sectors. FMI reports on put-in-place construction activity (compared to construction starts by Dodge) and showed a 5 percent increase in 2016 over 2015. This year, FMI predicts put-in-place construction will edge up 1 percent.
The residential construction market also looks positive with the National Association of Home Builders reporting that housing starts should increase about 5.9 percent in 2017 from 1.17 million in 2016 to 1.24 million. Most of the growth with come in the single-family construction market (9.2 percent) while the multifamily market looks to cool just a bit in 2017, down slightly less than 1 percent.
The Joint Center for Housing Studies at Harvard University anticipates a strong start to 2017 that will moderate in the second half of the year. By the third quarter, in spite of the slower growth rate, remodeling activity should surpass $327 billion on an annual basis, which will exceed its previous peak in 2006, even adjusting for inflation.
That's a lot of positive outlook for 2017, and our survey architects shows they support the confidence economists have about the construction industry.
Percentage of Respondents Who Specify Metal Building Products
General Statistics
As in past years, the respondents to the MA Architect survey predominantly represent architect and engineering firms and for the most part they are the owners of those firms. That would make sense since 43 percent of respondents come from firms doing less $1 million in annual revenues. In comparison to previous years, though, this year's respondents represent larger firms. In the past, more than half our respondents came from the smaller firms. That may be a consequence of increased sales within those firms, pushing them above the $1 million mark, or it could be a vagary of the respondent pool in the survey. Slightly less than 20 percent of the respondents come from the largest firms, which is a decline from the previous year's survey of about 4 percentage points.
Generally, our respondent population is spread evenly across the four regions of the country, and the growth in revenues they report from 2015 to 2016 is also fairly evenly spread. All four regions and the national market show about 75 percent of respondents reported increased revenue in 2016, which nearly 50 percent of them reporting increases of less than 10 percent.
Company Type
Position in Firm
Company Location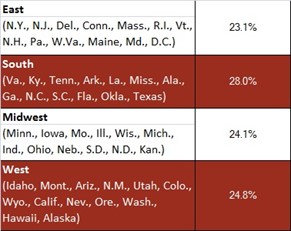 2015 Approximate Billings
2015 Billings vs. 2014 Billings
Metal Roofing
Respondents report they increased the percentage of projects, both new and renovation, that included metal roofing. Between 2015 and 2016, new construction projects using metal roofing increased 4.6 percent and renovation projects increased a sharp 12.2 percent. This growth in specification among this year's respondents marks a decidedly higher percentage than respondents to last year's survey reported. Nationally, last year, respondents surveyed reported specifying metal roofing in less than 30 percent of their projects, compared to the nearly 40 percent in this year's survey.
Low-slope standing seam and batten seam roofs are specified nearly 50 percent of the time nationally. Architects in the South and Midwest are far more likely to specify standing seam compared to the other regions, while architects in the East are much more likely to specify batten seam. The specification of insulated metal roof panels made a significant increased (35.1 percent) compared to respondents in last year's survey (25.5 percent)
Projecting to use in 2017, about a third of architects anticipate specifying more metal roofs while more than 60 percent will turn to metal roofing about the same as they did in 2016. Only 4 percent predict a decline in 2017. Again, compared to last year's respondents, these are significant increased.
It would be surprising if there were significant changes in the project sizes from one year to the next, and this year bears close resemblance to the reporting from last year. Nearly 40 percent of our respondents specified metal roofs on projects under 10,000 square feet.
Percentage of Respondents' New Construction Projects that Include Metal Roofing
Percentage of Respondents' Renovation Projects that Include Metal Roofing
Amount of Metal Roofing Projected in 2016 Compared to 2015
Types of Metal Roofs Specified
Metal Roofing Projects Specified, According to Building Size
Percentage of Respondents Who Specify Retrofit Metal Roofing for Existing Buildings
Metal Wall Panels
Respondents reporting on the percentage of projects on which they specified metal wall panels in 2016 was 31.3 percent for new projects and 20.7 percent for renovation. This represented a slightly more than 4 percent increase over 2015 in both new and renovation.
In 2017, the percentage of architects who predict their rate of specification for metal wall panels will increase is 35.9 percent and hold steady is 57.1 percent. Architects in the Midwest and West report similar numbers, but 44.9 percent of those in the East anticipate specifying more while only 26.5 percent in the South look to do more.
The most common type of metal wall panel specified in 2016 was concealed fastening (57.0 percent) while architects still haven't fully embraced individual shingles with only 6.5 percent specifying them.
Percentage of Respondents' New Construction Projects that Include Metal Walls
Percentage of Respondents' Renovation Projects that Include Metal Walls
Amount of Metal Wall Panels Projected in 2016 Compared to 2015
Types of Metal Wall Panels Specified
Metal Buildings and Metal Framing Systems
The numbers for the specification of metal building systems in new construction haven't moved very much in the last year or so. Our respondents reporting specifying 27.1 percent of their projects included metal building systems in 2016, which is compared to 26.0 percent in 2015. Those numbers are nearly identical to last year's respondents.
However, in renovation, the numbers did increase, with 19.0 percent of renovation projects getting metal buildings specified in 2016, which was a 9 percent increase over 2015. Those numbers are significantly higher than the previous year's respondents reported, when only 12.5 percent of renovations projects included metal building systems.
For the most part, architects anticipate continue the same rate of specification of metal building systems in 2017, although slightly less than a third will increase the rate of specification.
For metal framing systems, the numbers are similar to metal building systems, with about a third of respondents looking to increase the number of projects for which they specify metal framing systems. Just under 60 percent will keep them about the same.
Percentage of Respondents' New Construction Projects that Include Metal Building Systems
Percentage of Respondents' Renovation Projects that Include Metal Building Systems
Amount of Metal Building Systems Projected in 2016 Compared to 2015
Amount of Metal Framing Systems Projected in 2016 compared to 2015
Green Technologies
The interest in specifying metal building project to earn LEED designation has flattened out over the years. In spite of significant changes to LEED program with the new LEED v4, the change in specification still stands at about a third, which for the most part has been where it has remained for the last several years.
The same is true with cool metal roofing technology. The flatness of the numbers over the years would suggest the cool metal roofs have reached a certain market penetration and stagnated. While there have been ups and down over the years, the percentages have consistently been between 40 and 50 percent with one outlier in 2015.
Solar technologies have undergone significant changes in the last five years, with the price for panels dropping and making the payback period much shorter. Industry reports suggest the incidence solar panel specification should be increasing during the time. Our survey, however, suggests that only about 40 percent of architects are specifying solar panels in a year, and that has held steady since 2011.
Looking forward, they story is the same, with nearly half of our respondents saying they will specify solar when possible and fully 20 percent saying they won't do it at all. There does seem to be a churning effect in these numbers, but no clear trend of growth or decline is emerging.
Percentage of Respondents Who Specified Metal Building Products to Achieve LEED Designation
(Note: Data for 2011, 2012, 2013 and 2014 are from the 2012, 2013, 2014 and 2015 surveys respectively.)
Percentage of Respondents Who Specified Cool Metal Coatings
(Note: Data for 2011, 2012, 2013 and 2014 are from the 2012, 2013, 2014 and 2015 surveys respectively.)
Percentage of Respondents Who Specified Solar Panels, Photovoltaics or Solar Films
(Note: Data for 2011, 2012, 2013 and 2014 are from the 2012, 2013, 2014 and 2015 surveys respectively.)
Anticipated Usage of Solar Panels and Photovoltaics in 2016