Cost of Net Zero
It's no wonder the interest in net zero buildings has increased over the last few years. The number of buildings that have achieved net zero energy or are working towards net zero energy has more than doubled since 2012. According to the Portland, Ore.-based New Buildings Institute's (NBI) "2014 Getting to Zero Status Update" report, there were 60 such buildings in 2012 and by 2014 that number jumped to 160. NBI's 2013-14 Progress Report has the number of verified and emerging projects up to 191 for 2015.
One factor aiding interest in net zero buildings is that the Getting to Zero report found that net zero is achievable in all regions and climate zones. In 2014, ZNE buildings were in 36 states and two Canadian provinces, up from 26 states in 2012. This puts zero net energy buildings in all eight of the U.S. Department of Energy climate zones and proves that ZNE buildings can be built in most regions of North America.
Additionally, the report finds that new zero energy works for most building types and sizes, and is also achievable in existing buildings, with 24 percent of the verified ZNE buildings being renovation projects.
"Now that we're seeing more examples [of net zero projects], it's a lot easier to say yes, we can do this too," says Ralph DiNola, CEO, New Buildings Institute. "We're seeing examples of zero net buildings in pretty much every building type and every climate zone in the U.S., and I think that's what makes it more possible and a reality for people."
One theory is that the current economic uptick has a lot to do with it. "With this kind of reinvigoration of the economy and the building industry specifically, I think people are looking for what's next, and I think this ability to differentiate and to really push the envelope on design and technology is generating this interest," DiNola says.
Cost Concerns
While there are more building owners interested in learning more about net zero, for many, cost is still a primary concern. According to Vuk Vujovic, LEED AP BD+C, vice president, director of sustainability and energy at Legat Architects, Chicago, some clients still perceive the effort to get to net zero building operation too great or the overall cost too high. "This prevents them from actively pursuing available opportunities or considering net zero implementation in the first place," he notes.
In general, net zero usually requires more upfront funding than typical buildings. "However," Vujovic adds, "this perspective should be modified to include annual paybacks, available grant funding, and added resiliency and disaster preparedness capabilities that are inherent to net zero operation."
The Getting to Zero report notes the costs for getting to zero are not distinguishable from overall project costs. While energy efficiency and renewable technologies have specific costs, the design and technology tradeoffs due to the advanced systems blur the line of incremental costs. Additionally, green, LEED and/or zero net energy building costs are within the range of other like-type buildings. When the total construction costs for these building are analyzed versus a control group, the projects' costs are comparable.
Greg Mella, FAIA, LEED AP BD+C, co-director, sustainability at SmithGroupJJR, Washington, D.C., agrees, saying, "The cost premium for getting to zero isn't far off what the cost premium was to achieve LEED Platinum a decade ago."
Citing the "Net Zero and Living Building Challenge Financial Study," which was prepared by the International Living Future Institute, the New Buildings Institute and Skansa, Mella says the study set out to describe the cost premium a project might anticipate to go from LEED Platinum to net zero. The report notes that the cost premium for energy efficiency was approximately 1 to 12 percent depending on building type, and rose to 5 to 19 percent for net zero energy.
While the primary concern around building to net zero is up-front cost, Mark Roddy, FAIA, LEED AP BD+C, vice president, design principal at SmithGroupJJR, San Francisco, says it's the operational costs that really make a difference. "If you can have a conversation about how much money they're going to be spending over the life of the building or for the next 10, 15 years, etc., that's where the real value proposition comes in," he says.
Mella agrees, saying it's important to look at the cost premium for energy conservation measures as an investment comparing up-front costs to the operational energy savings. "If we are working on a conventional, energy-efficient project, operational energy savings are measured against the cost of grid-provided electricity," he explains. "For a net zero project, assuming the net zero goal is immutable, you evaluate your investment in conservations measures against the cost one would pay for additional renewable energy components had those conservation measures not been implemented."
Return on Investment
According to the Financial Study, tax credits and renewable energy credits could make the return on investment on a project approximately 30 percent, whereas the return on investment for energy efficiency alone was in the range of 5 to 12 percent.
One thing that factors into a project's cost and payback is where it is located. "For a start," Mella says, "the energy use of a project varies dramatically based on the project climate and program. Compounding that variation, the output of renewables like photovoltaics also varies significantly across the country."
Locations with extreme temperature conditions-very hot or very cold climates-could place an additional burden on net zero building systems. "Active heating and cooling requires additional energy use, which, in the case of net zero buildings, needs to be produced on-site," Vujovik explains. "This could be mitigated using passive building technologies. Natural ventilation, passive heating and cooling, increased thermal insulation, and other methods can greatly improve overall building systems efficiency."
For most projects, Mella says photovoltaic panels are the most viable on-site renewable energy resource. While photovoltaic technology is pretty straightforward without a lot of uncertainty or maintenance requirements, he says clients are interested in the payback on the initial investment. "Concerns over the cost of PVs are often a perceived hurdle not an actual hurdle," he explains. "The costs have come down considerably and there are funding options including tax incentives and even power purchase agreements that can overcome these obstacles. A power purchase agreement is a mechanism where an owner allows a third party to install renewable energy systems on their site under the condition that the owner will purchase the renewable power at a negotiated rate. This mechanism can eliminate most of the first cost premium of a renewable power system, alleviating a common concern."
According to Vujovik, typical returns are directly related to the current cost of renewable energy, which is getting better as wind power, solar thermal and photovoltaic technologies continue to improve. The current return on net zero projects still varies with type and specifics of each application, he adds, with it ranging from 15 to as much as 35 years or more.
Design Strategies
Now that more clients realize it is possible to reach this once-lofty goal, the increased interest is causing architects and designers to change the way they approach net zero building design. Some concerns include whether a project will actually reach net zero and what it will take to get there. "What we're finding is, even if you have decided to pursue [net zero], that achieving it, which means completing the project, occupying the facility and then operating it to net zero, is the proof in the pudding," DiNola says. Some challenges that come up have to do with how the building is operated. There are many factors, including: Are you using it for the same use that you designed it for? Are you using it for the same amount of occupancy? How many people are actually in there? Are you operating it to the same schedule you anticipated?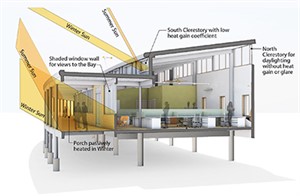 According to Mella, "Clients who want to talk the talk-often those whose mission includes a focus on sustainability-realize now that net zero is the new LEED Platinum."
However, unless a client is really committed to the goal, reaching net zero is a hard proposition. "You really have to have an advocate for it, someone who will lead it from the client side," Roddy says. "As architects, we can only do so much. We can't fundamentally change how people might operate the building and all of the things associated with a real net zero building."
That commitment to net zero requires a bit of an educational process for the building occupants. "You can design a net zero building, but if people aren't using it correctly, then it's not really going to be a true net zero building," Roddy adds.
According to the Getting to Zero report, project design teams employed commonly available technologies and equipment rather than highly specialized or experimental technologies. The teams used passive energy strategies, including energy-efficient building envelopes with increased insulation, natural and night flush ventilation, daylighting and controls, exterior window shading and operable windows. It notes that passive systems, high-performance building envelopes and the evolution of technologies for monitoring and controlling energy systems are key developments toward extremely low-energy buildings.
The report also notes that, "Achieving ZNE performance is about more than careful design and installing the right technologies. Continuous attention to building controls and performance monitoring and feedback are key components in most projects. The role of occupants becomes critical in ZNE buildings as their activities influence the energy use through plug loads, schedules and equipment procurement."
Therefore, it is important to set net zero as a target as early in the design process as possible. Then, DiNola says, as you do early design concepts and start doing energy modeling on the facility, you can optimize systems and equipment, and reduce or eliminate systems and equipment, especially if you focus on creating a much better building envelope. "What you're doing is effectively trading off the higher cost equipment for lower cost envelope insulation," he explains. "Set the [energy] target early on, and use integrated design to really optimize and minimize systems and equipment."
One of the benefits of engaging building occupants early on is that Vujovic says they will suggest additional solutions and novel ideas on how to reduce original building energy needs requirements, which will in turn make it easier to reach the net zero goal. "The most cost-effective way is to conduct research and to budget and design for net zero construction from the very onset of the project," he explains. "This holds true regardless of the project type. New construction tends to provide more opportunities to properly orient and insulate the building, which can reduce the cost of getting to net zero. In most cases, new construction should be more cost effective that doing retrofits of an existing building not originally designed to meet net zero requirements. The highest cost is doing nothing."
As Mella explains, most components of a net zero project are evident and necessary, and designers understand the importance of not compromising on envelope enhancements, daylighting, high-performance HVAC systems, and of course, renewable energy. What is less obvious, he says, is the importance of not compromising on robust metering and systems controls. "A typical building uses energy for things like lighting, heating, cooling, ventilation, and plug loads," he says. "A net-zero building will minimize the energy demand for lighting and space conditioning by adopting energy conservation measures. What you are left with is a lot of plug loads."
When designing a net zero building, Roddy stresses the importance of right sizing the design and using only as many renewable components as needed. On that note, Mella adds that in theory, "every building, no matter how much energy it consumes, could be net-zero if you provided enough PV panels. But, in reality, the most cost-effective way to achieve net zero is to strive to design very low-energy buildings, thus minimizing the investment and reliance in renewable energy."
**Charts: Courtesy of the New Buildings Institue. Photo credits, from top: ©Dave Chance Photography; Gregg Mastorakos, courtesy of SmithGroupJJR; Courtesy of Legat Associates, Chicago. Brock Center Diagrams: Courtesy of SmithGroupJJR.