Leading the Way to Net Zero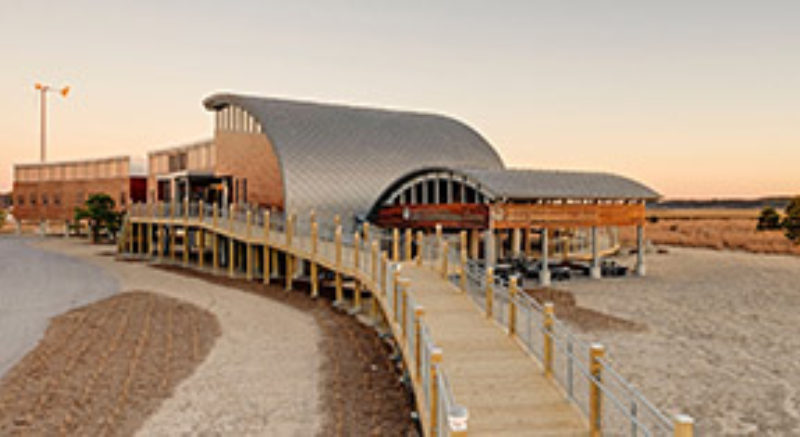 In 1999, the Chesapeake Bay Foundation (CBF) built the world's first LEED Platinum certified building, the Philip Merrill Environmental Center in Annapolis, Md. Since then, CBF has continued to stretch the bounds of sustainability by recently completing the Brock Environmental Center in Virginia Beach, Va., a building that is considered a model for energy and water efficiency and climate change resiliency.
Completed in November 2014, the Brock Center is named in honor of Joan and Macon Brock to recognize their $3.5 million leadership gift towards the $21 million capital campaign required to build, operate and endow the new center on land that as recently as 2008 was slated for 1,100 new high-rise condos and townhouses. Located on Virginia Beach's 118-acre Pleasure House Point tract on the Lynnhaven River, the 10,000-square-foot facility is the only structure on the land and takes up only 1/2-acre of CBF's 10-acre parcel that was purchased through a community partnership with CBF, the City of Virginia Beach and the Trust for Public Land in 2012.
Architect Greg Mella, FAIA, LEED AP, project manager and design architect at SmithGroupJJR, Washington, D.C., designed both the Philip Merrill Environmental Center and the Brock Environmental Center. As he explains, the partnership turned the parcel into a nature preserve, and the acreage purchased by the CBF was used to create an environmental education center and allows the interpretation of the site to welcome 2,500 visiting K-12 students annually to learn about the Bay and sustainable design.
The one-story Brock Center serves as the hub for CBF's Hampton Road office, supporting its Chesapeake Bay education, outreach, advocacy and restoration initiatives. The building hosts offices for CBF and its partners, providing meeting rooms and exhibit display areas, an 80-seat conference room, and more. The coastal site, which facilitates the center's outdoor education program, also includes a boat pier with floating dock and an open-air education pavilion.
Aiming for Net Zero
In addition to targeting LEED Platinum certification, the Brock Center is aiming to be the first building in Virginia to meet the standards of the Living Building Challenge (LBC). Developed by the International Living Future Institute (ILFI), the LBC is made up of seven petals that are divided into 20 imperatives. LBC has strict standards that require facilities to have a net zero impact on the environment. So far, only five projects in the world have received full LBC certification.
"CBF had the same goal for the Brock Center-to create the greenest building possible-but in 2012 there were examples of projects that achieved net zero energy and even two projects that achieved the LBC," explains Mella. "We viewed the LBC as an authentic measure of true sustainability, envisioning a building that produces its own energy and water, and maintains a net zero impact with its site and community.
"We knew it would be a challenge for CBF and our team, but we wanted to strive to meet this highest standard," he adds. "At the same time, CBF's longstanding partnership with the U.S. Green Building Council mandated we also pursue LEED Platinum. The two certification systems are completely compatible and harmonious. Third-party certifications systems are important to both CBF and SmithGroupJJR because they substantiate and validate claims."
Completing the Living Building Challenge is a challenge to achieve the levels of performance that it demands, says Mella. "Time after time, we found the best way to overcome this challenge was to work as a team."
Integrated Design
Mella explains that the design was marked by a highly iterative, integrative process using simulation tools to validate each design move. The architects and MEP engineers were co-located and worked on a shared building information modeling (BIM) model, which facilitated integration.
Chris Brandt, executive vice president, Hourigan Construction, Virginia Beach, explains that they used BIM to convert the design model into a true construction model by working with the design and operating system subcontractors to coordinate the exact routing and location of each pipe, ductwork, light, operating devise in construction with the structure and architectural surfaces. "BIM was a key element in the success of this project and was also used to provide intelligent construction as builts with a detailed existing condition survey," he says.
The Brock Center will be the first commercial-scale building in the continental U.S. to earn net zero water status, being the first in the U.S. to receive a commercial permit for drinking treated rainwater in accordance with federal requirements. Its rainwater collection system stores rainwater in tanks under the building and then filters it for hand washing and drinking through a state-of-the-art water filtration system licensed by the State of Virginia's Office of Drinking Water. The center also has waterless, composting toilets and all grey water is channeled through a wetland constructed of native plants where natural processes clean and return it to an underground aquifer.
To achieve net zero energy, the center also generates it own electricity through solar and wind-powered renewable energy. A 38.8 kW rooftop photovoltaic array from SolarWorld, Hillsboro, Ore., produces 60 percent of the building's energy needs, while two small, 10-kW wind turbines from Bergey WindPower Co., Norman, Okla., measuring 80 feet tall, contribute the remaining 40 percent. By using only as much energy as it generates over the course of a year, will allow the center to earn net zero energy certification. Any surplus energy will be returned to the power grid.
The challenge with net zero energy lies in the fact that renewable energy technologies, such as photovoltaics and wind, are expensive when compared to cheap, grid-provided electricity, Mella says. Therefore, the design team sought to minimize the project's energy use by first designing a super-low energy building that takes advantage of cost-effective passive design approaches. The building has a tight thermal envelope with R-51 roofs, R-35 walls and R-7 windows, daylighting completely eliminates the need for artificial light during the day, natural ventilation eliminates the need for mechanical cooling on temperate days, and high-performance mechanical systems utilize 18 ground-source wells, which harness the earth's stable temperatures to improve heating and cooling efficiently, allowing the Brock Center to use 83 percent less energy than a conventional office building. "This low energy use was met by intentionally diversifying our renewable energy approach (to be resilient)," he says.
Resilient Design
Since the Brock Center is a coastal site in a flood plain, architects and designers thought about issues of resilient design. "Ordinarily, resiliency thinking would suggest these sensitive sites should remain undeveloped, but for the Brock Center to fulfill its educational mission where visitors learn about the Bay's ecosystems by experiencing them, resiliency thinking in our case involved how can a susceptible site like ours be developed to withstand flooding, hurricanes and power outages, so that the Center can not only stand, but thrive during these events, even serving as a haven for the adjacent community," Mella explains. "Resilient thinking requires teams to not only look at current conditions, but to anticipate future conditions, as well as the impacts of climate change and sea-level rise."
Designers drew the projected shoreline based off what scientist are predicting may result from climate change by the year 2100. Therefore, the center is set back 200 feet from the shore and sits on pylons 14 feet above sea level. Additionally, the building's structural system is designed to be able to resist 120-mph hurricane force winds, and the windows are capable of resisting wind-borne debris.
"Net zero buildings are intrinsically more self-sufficient," Mella says. "With no city power or water, occupants inside Brock can stay comfortable and thrive. When the power is out, the interior is still well lit (using daylighting), cool (using natural ventilation), warm (using super-insulated walls and roofs), and photovoltaics and wind turbines produce power that keeps things like emergency lighting and composting toilet exhausts running. Captured rainwater provides the safe water for drinking and can easily withstand three-week-long droughts, which is consistent with future drought predictions, to keep the center operational in the event of unforeseen disruptions to the municipal water supply."
Building Blocks
To qualify for LBC, the design and construction team took special care not to use any materials on ILFI's Red List, which identifies chemicals and materials that are considered harmful to humans and the environment. Therefore, construction materials were selected for their natural and simple properties, with preference given to materials that are bio-based instead of heavily processed, complex, synthetic and chemical- based. Disclosures of the chemical constituents of building materials were required, while the team pursued using locally sourced materials as much as possible.
"To meet the Red List requirement, we needed to learn the chemical ingredients in literally thousands of products that all go into a building," explains Mella. "A Red List charrette was held during schematic design. The client, architect, contractor, as well as interns from local schools, developed shared online tools and formalized methodologies for materials vetting."
Manufacturers were contacted during design and construction to get a full accounting of the chemical ingredients of building materials by way of a Health Product Declaration (HPD). "Selecting natural, bio-based materials lessened the need for complicated ingredients research," Mella says. "While we knew that getting disclosure of ingredients would be hard, we believe that as more and more teams ask for this information, the burden would be reduced significantly for teams that follow."
According to Brandt, the Red List was the largest single challenge for the entire project and is still being documented today to submit for the LBC documentation. "We employed two full-time research personnel to focus solely on the Red List materials," he says. "We also partnered with Virginia Tech and several classes of students and professors to assist with our Red List processes. We invested-and are still investing-thousands of man hours to accomplish this task."
This approach toward material selection was consistent with the project's design goals, which included a desire to connect visitors to the project's unique site through the material palette. As Mella explains, the zinc shingles from Jarden Zinc Products, Greeneville, Tenn., used to clad the center's iconic curving roof are resistant to corrosion that occurs in the presence of salt spray in the air. Additionally, the zinc shingles provide a color that recalls the glistening Bay and a texture that recalls the scales of a fish.
On the other hand, Galvalume standing seam roofs from Construction Metal Products Inc., Statesville, N.C., are well suited for rainwater collection as they provide a smooth, sloped surface that inhibits algae growth and facilitates collection. The building's steel structural system can withstand hurricane-force winds effectively and efficiently, while the aluminum-clad windows from Intus Windows, Washington, D.C., provide a low-maintenance, durable solution that withstands the site's coastal forces. Guardian Industries Corp., Auburn Hills, Mich., supplied its SunGuard SuperNeutral 70/41 glass for the project.
Additionally, nine companies contributed to the Brock Center's steel structure. Four of them-Gerdau AmeriSteel, Petersburg, Va.; Nucor, Mt. Pleasant, S.C.; Southland Tube, Birmingham, Ala.; and Independence Tube, Chicago-supplied the vast majority of the structural steel material.
Looking Ahead
Before the building was occupied at the end of last year, occupants were trained in the day-today operations and measurements of the renewable technologies. On April 1, the LBC's required 12-month measurement period for the Brock Center began, with certification targeted to take place by mid-2016.
As Mella explains, perceptions still linger that resilient, sustainable architecture looks a certain way, somewhere between a functional shed and a bomb shelter. "One unique aspect of the Living Building Challenge is that it requires teams to consider beauty in their designs," he says. "It's actually a requirement."
The Brock Center used nature and its captivating site as a source of inspiration. This is shown in the center's subtle curve, which allows the shape of the building to recall the nearby shoreline, while its convex shape provides continual views out as one walks along the hallway that connects all interior spaces. "Prominent, curving roofs recall forms of the site's wind-swept live oaks, the wings of a gull, and the protective shell of an oyster; while also embodying rainwater collection," Mella adds. "Even the exterior and interior material palette draws on colors and textures found on-site."
An important part of the initial design concept was to coordinate the unique design of the facility with the 'normal' local and national building codes, explains Brandt. "Many of the systems involved with the building were not addressed by those codes nor were the code officials familiar with the designs," he adds. "The city of Virginia Beach proved very cooperative and understanding of the project vision, helping to make the project a success."
"When you work on a site as beautiful as Brock's, the best you can strive for is to create something that is harmonious to this spectacular landscape," says Mella. "If we succeeded, then the Center will be something that future generations will want to preserve and protect, in the same way they work to Save the Bay."
Cutting-Edge Environmental Preservation Techniques
"Because the facility was envisioned and designed to be independently free of the public grid and completely sustainable without leaving a carbon footprint, it was our duty to also construct the building according to that vision and project goal. We utilized mobile photovoltaic cells to provide power for the construction tools on the project, catalytic convertors for each of the large pieces of construction equipment to eliminate the carbon emissions associated with internal combustion engines, well water for construction purposes in lieu public city water, and fabric collection devices attached to the bottom of all large equipment that protected the project soils from leaking hydrocarbons that permanently pollute the natural subsurface filtering system. We also provided 'noise reduction and noise silencers' for all large equipment to reduce the noise pollution for adjacent and surrounding commercial and residential facilities."
--
Chris Brandt, executive vice president, Hourigan Construction, Virginia Beach, Va.
[CLICK FOR LARGER IMAGE]
Photos: ©Dave Chance Photography. Diagrams courtesy of SmithGroupJJR