Poetic Design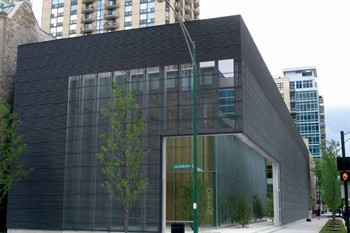 Architecture and design meet the beauty of poetic license at the new home for the Poetry Foundation in Chicago's River North neighborhood. Completed in June 2011, the $21.5 million project is made up of a 22,000-square-foot building and a 4,000-square-foot garden. The Foundation's new home includes public spaces of a library, gallery and performance space, as well as office and support spaces.
Architect John Ronan of Chicago-based John Ronan Architects, explains that the building was conceived as a series of layers of different materials-zinc, glass and wood-that visitors move through and between, creating an unfolding sequence of spaces, similar to how a poem unfolds line by line.
A wall of perforated zinc separates the building and garden from the street outside, which allows visitors to feel a part of the city, but removed at the same time. "The perforated zinc lends an air of mystery to the building, which is meant to intrigue passers-by and invite them to enter and explore," Ronan adds.
Along with the perforated zinc panels, an interior glass curtainwall also makes up the building exterior. As Ronan describes, "The glass wall moves in and out, coming closer to the zinc wall to create compression, and then moving away from the zinc wall to create the major areas of the garden, through which people move to enter the building."
The building and the garden work together, in such a way that the garden is created through an erosion of the implied volume as described by the site's L-shaped property boundary, resulting in a relationship whereby the enclosed building spaces interlock with the exterior spaces of the garden. This allows the garden to be seen as another "room" of the building, and part of the building's slowly unfolding spatial sequence, which is revealed space by space.
Visitors walk through the garden before reaching the building, where the start of the literary environment is announced with a double-height library space bordering the garden. Inside, an exhibition gallery connects the library to the poetry reading room, where poets can perform their work against the garden backdrop. The second floor is home to the foundation's office space, organized into three areas corresponding to operations-administration, Poetry magazine/website staff and programs staff. The building's internal arrangement allows for views from all spaces back out onto the garden.
Umicore Building Products USA Inc., Raleigh, N.C., supplied 19,500 square feet of 1-mm Corrugated ANTHRA-Zinc panels for the exterior of the building. Fabricated and installed by Tuschall Engineering in Burr Ridge, Ill., the project also features 6,500 square feet of perforated paneling surrounding the garden.
Poetry Foundation, Chicago
Award: 2012 AIA Institute Honor Award for Architecture
Architect: John Ronan Architects, Chicago
General contractor: Norcon Inc., Chicago
Metal panel fabricator/installer: Tuschall Engineering, Burr Ridge, Ill.
Metal panels: Umicore Building Products USA Inc., Raleigh, N.C., www.vmzinc-us.com