Function First: Firm Bases Designs on Modernist Principles
Firm advances purpose-driven designs with technology and metal building materials
When Albert Dreyfuss and Leonard Blackford founded Dreyfuss + Blackford Architecture in Sacramento, Calif., in 1950, they rigorously adhered to the principles of modernist architecture. At the same time, they pursued cutting-edge ways of leveraging the benefits of technology to express modernism. Those very first technological, modernist expressions were groundbreaking.
Today, with a well-established reputation for practical, refined, modern designs, the firm's 44 employees remain committed to the founders' vision to produce architecture that expresses the principles of modernism in their own distinct way. Often, Dreyfuss + Blackford's designs leverage the benefits of metal building materials and technology. And always, they are driven by purpose.
Kristopher Barkley, AIA, president, design principal at Dreyfuss + Blackford, says, "Metal, in its various forms, has always been an integral part of our work. As a firm founded in 1950 with modernist roots, advances in the technology of metal and metal-based products have progressed with the growth of our firm, and are linked to our core principle of purpose-driven design."
Modernist Origin
In terms of modernism, there's a difference between the pure concept of it and Dreyfuss + Blackford's approach, Barkley says. "Although you can't always call our more recent work modernism, it stems from the same principle, and that is that it's function first," he says. "And that can mean design from plan, how the building functions, how people move through it, but it also relates to the materials used on the building."
The first project that garnered a young Dreyfuss + Blackford national and international recognition was the headquarters building for the newly formed Sacramento Municipal Utility District (SMUD) in Sacramento, Calif., in 1960.
The entire building was designed in a grid, and every façade responds to daylighting conditions. "Later, it was placed on the national historic registry for being a character-defining structure," Barkley says. "And then, in 2019, we completed a complete restoration and rehabilitation of it. And so that particular project is probably woven into our history more than any other thing that we've done. And it is truly a modernist building."
Relative to technology, the SMUD building has a brise solei façade at the north elevation with a mechanical and automated aluminum louver system that adjusts to daily and seasonal lighting conditions. "The most character defining part of it is the façade," Barkley says. "It allows a lot of natural light into the building, but there's no sunlight that penetrates the building on that façade. And this was built in 1960, which is pretty amazing. Technology and the advance of metal really is core to modernism, and so our modernist roots really fit nicely with use of metal on projects."
In addition to the innovative brise solei façade, Dreyfuss + Blackford designed the SMUD building with a grid, which is another integral aspect of the design based on modernist principles. "It's built around a 5-foot grid, so it's a very organized plan and layout," Barkley says. "It was designed almost like a submarine because there's no wasted space in the building. Even the spaces from ceilings to floors above are as compact as possible, and it uses metal bar joists to accomplish that. The ceiling systems, the façades and everything in the building relate to that type of grid, so it's extremely efficient. Everything is modularized."
New Expressions
Since the SMUD building, over the course of seven decades, architects at Dreyfuss + Blackford have discovered new ways to refine every aspect of designs through a modernist lens. Their efforts continue to yield award-winning projects including County of Santa Clara Animal Services Center (CCASC) in San Martin, Calif.
A dramatic, complex standing seam roof drapes over multiple roof lines on top of the animal center. At the northwest elevation with the front entrance, the standing seam panels continue from the roof into walls.
Jason Silva, AIA, LEED AP, design principal at Dreyfuss + Blackford, says, "Metal has value in enclosing volumes using simple, time-tested detailing, but with greater potential when exploring new expressions. CCASC was a project where really metal was the best material for enclosing a dynamic form. The design move for that building was the idea of having a broken plane drape itself over a volume below it, and from the back of the building, where it's enclosed. That metal volume goes up and down over the roof and then drops to the ground, creating an enclosure. But then, out at the public side, in the front, it opens up, almost like butterfly wings."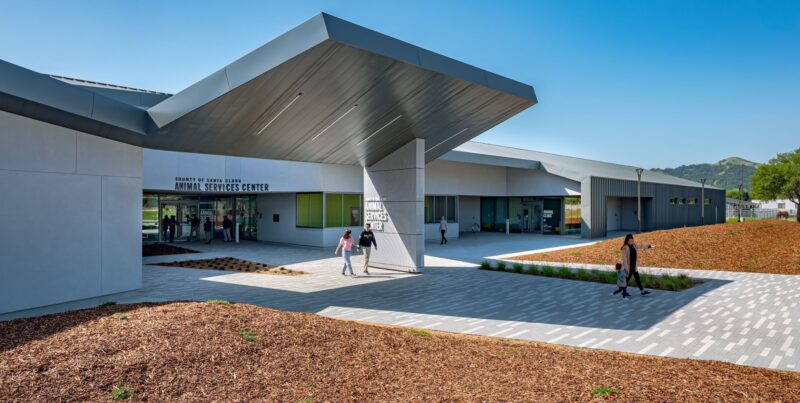 Exhibiting Structures
Often, Dreyfuss + Blackford exposes metal structures, another way the firm creates new architectural expressions based on modernist principles. For example, at an entrance to a gas shop metal building at PG&E's Gas Safety Academy campus, designers inset a portion of a metal wall with the doors. Strengthening the contrast, the main wall is blue and inset wall, yellow. Cross-bracing crisscrosses the inset wall.
Barkley says, "We generally don't cover up the structure; we celebrate it. In this case, by setting the panel back in, we can expose the raw cross-bracing on the exterior of the building. Normally, it's hidden inside the building, so it gives kind of a dynamic feel to it. And the yellow behind it makes it pop. It's a very honest expression."
Dreyfuss + Blackford also customized an end-wall on the gas shop by stepping it in to create an outdoor workspace and, like the entrance wall, painted it yellow. Christopher Holt, AIA, LEED AP BD+C, associate, project manager at Dreyfuss + Blackford, says, "We infilled the edge of the PEMB; we stepped into the frame. The yellow face is recessed into the metal building, and the first frame of the building is exposed. We did that because most PEMBs have relatively boxy forms and we wanted it to have better exposure, more relief on that side of the building, and better accentuation of the edges of the building."
Ornamentation Omission
Dreyfuss + Blackford relies on building forms and nondecorative elements to define designs, another method grounded in principles of modernism. Building materials that are modular are a natural fit. For example, Dreyfuss + Blackford specified factory manufactured components for staircase railings inside the University Union building at Sacramento State in Sacramento, Calif.
Barkley says, "The railing and framing are a stainless steel component, but then we also suspended, between those, perforated metal panels in a contrasting orange color that came out really nice. It's very modular, and a very rational approach to that expression of the material. Everything is about the simplest way of connecting materials together and expressing that; we don't rely on ornamentation. It takes a little more work to design a staircase like this than other solutions. We'd rather spend the time designing and have something that's easier to build and very durable and appealing over time."
Precise Specification
Optimal metal material specifications are essential to Dreyfuss + Blackford's ability to meet project goals and continue its mission to execute purpose-driven design, and take advantage of the benefits of metal building materials and technology.
"Metal's strength to weight ratio is really great," Barkley says. "So, you can minimize the amount of material used. It's also very durable over time and very flexible in that you can use it in a variety of different ways. And it all adds up to being a very functional material. That's where that purpose-driven design comes from."
For a planetarium dome on the SMUD Museum of Science and Curiosity (MOSAC) in Sacramento, Calif., it was important the cladding would require minimal maintenance due to the dome's large size and difficult accessibility.
Zinc panels were the best cladding solution because if they get scratched, the zinc will self-heal, Holt says. "In a double-lock panel, it's really important that you not have to maintain the metal, and that's what really drove us to zinc. It's self-healing; essentially, it doesn't ever need to be refinished."