A Singular Design Vision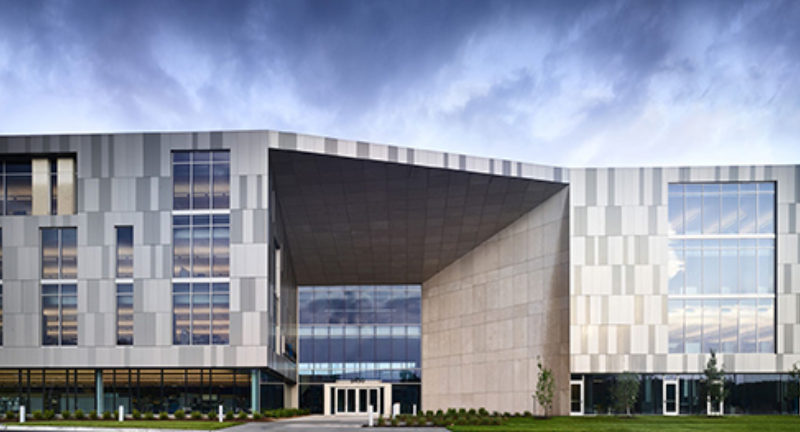 Employee-owners design Burns & McDonnell's new headquarters
Anticipating its current needs and future growth, architecture, engineering and construction firm Burns & McDonnell opened its new world headquarters building in Kansas City, Mo., in May 2016. The four-story, 310,000-square-foot Class A office building consolidates all employees from several remote sites into a single, centralized location.
Designed in an L-shaped configuration, the new building increased the size of Burns & McDonnell's world headquarters by 74 percent, and has space for 1,400 employee-owners. It is located on a 17.5-acre site previously occupied by Beth Shalom synagogue. It anchors the famed Ward Parkway corridor, and is the third building on the company's 37-acre campus.
According to Clint Blew, associate architect, and project design team member for the headquarters expansion, the project scope also included an 880-space parking garage adjacent to the new facility, which is physically connected to the existing headquarters by an elevated indoor bridge. A series of outdoor walking trails enable all global practices to share common amenities, such as a large café, a barista bar, outdoor terraces, health and fitness centers, a credit union and training facilities. The expansion also includes a 20,000-square-foot, fully licensed childcare facility offering a science, technology, engineering and math (STEM)-based curriculum for 144 preschool-aged Burns & McDonnell children. "Together, the new and existing buildings are configured to form a single campus with a large outdoor green space and a variety of indoor and outdoor amenities shared by all employee-owners," says Blew.
An Integrated Design Approach
An employee-owned, fully integrated design-build company, Burns & McDonnell offers its clients all key disciplines for any size project in-house, including surveying, permitting and stakeholder management to architectural and engineering design, construction and program management, commissioning and even technology consulting.
Employee ownership played a key role in how the new building was designed. "During the entire design process, design and budgetary decisions were balanced with the company's best interest in mind," Blew says. "Because the goal was never to do the least expensive nor most expensive space possible, the team approached each design decision as a cost verses value proposition."
This is evident in many of the finishes that were chosen for the project. As Blew explains, high-end finish materials such as aluminum composite material (ACM) panels and limestone panels were selected over less expensive skin alternatives because the overall value to the design merited the higher cost. On the flip side, there were times when the initial material selections were changed for less expensive alternatives when it was found the new offerings didn't diminish the quality of the workspace, while offering savings back to the company.
Building Connections
Next to the new building, an older, preexisting Burns & McDonnell headquarter building bends in arcs forming a horseshoe-shaped edge around a common outdoor space. "This simple parti helped guide the design concepts for the new buildings," Blew says.
The master plan for the new site connects structures together in a U-shape configuration that forms a central outdoor green space, which brings the large company together. The amount of green space doubled, allowing the company to use it for company, client and civic events, in addition to unifying the campus with a walking trail, serpentine stream and outdoor seating.
Instead of mimicking the headquarters 1980s architecture with its use of heavy, dark stone and glass ribbons, Blew says Burns & McDonnell wanted to make a statement by employing a lighter, more dynamic architecture that's emblematic of its engineering culture and identity for the 21st century.
"The new buildings are more extroverted than the existing structures in their use of clear glass to showcase Burns & McDonnell's thriving workforce," Blew explains. "The resulting visual contrast is intentional but complimentary and clearly articulates Burns & McDonnell's distinctive qualities and commitment to excellence in the work place."
Dynamic Details
Early in the design process, the design team identified several key words that best express the Burns & McDonnell's character as a company. "Words like "strong, nimble, progressive, integrated and stable," among others, informed the façade designs and the selection of architectural finishes that best express ideas rooted in the company's own DNA," Blew says.
The exterior building skin is made up of an ACM panel system, a composite stone panel rainscreen system and an aluminum storefront glazing system. The project uses Moon Township, Pa.-based CENTRIA's MetalWrap Series MR-300 System behind two rainscreen systems that makes up 60 percent of the exterior skin area.
Arconic Architectural Products USA Inc., Eastman, Ga., supplied 60,000 square feet of its Reynobond ACM, which was formed into 4-mm FR panels in three custom colors of Colorweld 500, Colorweld 500 Mica and Colorweld 500 XL Metallic. The panels are four different widths--12, 18, 24 and 30 inches wide--and are placed in a random pattern. The customized ACM rainscreen system helped achieve crisp solid reveal lines, while an accelerated schedule was achieved by using a complete panel system on the exterior.
The design team chose Reynobond ACM panels for its durability, flatness and potential for precise detailing. "These are essential qualities for a design aesthetic predicated on a strong formal clarity and progressive, machine-like efficiency," Blew adds. "The resulting metal facades enjoy a fluid continuity, especially at corners, where panels crisply bend 90 degrees as one unit without the use of clunky metal caps and transition pieces."
"This formal clarity is counter-balanced and energized by the use of completely random patterns for each façade which are composed of four different panel types each finished with one of four different paint colors," Blew explains. "Because the Phase I building sits in a very large, linear, L-shaped configuration, the panel patterns were designed to soften excessive horizontality with vertically oriented planks arranged in clusters of variegated gray tones that change in appearance depending on the paint finish and viewing angle."
And, Blew says, the design team and leadership group favored this ever-changing tapestry of metallic coatings over more regular patterns with little or no color variation for its dynamic and somewhat unexpected visual qualities for an engineering company.
Smart Design
The design team employed a wide range of smart, energy and resource-efficient design practices that make the building significantly outperform the ASHRAE 90.1 baseline building for energy performance.
"The project was designed with a sustainable lens in all aspects including exceptional energy performance that exceeds 2012 IECC commercial envelope and energy use standards by 40 percent," Blew says. "In addition, the site features a near-zero-discharge stormwater management system and a high volume of reclaimed and recycled materials."
Sustainable features include an energy recovery system integrated with state-of-the-art HVAC; reclaimed white marble that had been a distinctive feature of the synagogue that previously occupied the site; 7,500 board-feet of Hackberry wood, an under-utilized hardwood that is common to the local area; under-slab hydronic heating system in the main lobby and auditorium; high-performance, low-E insulated glazing; continuous R-21 wall and soffit insulation; 100 percent LED interior and exterior lighting with occupancy sensors and energy-saving settings; fully automated window shade system based on solar position and brightness. Additionally, the site includes increased and enhanced green spaces including walking trails and bike storage, and numerous electric vehicle-charging stations.
Photos: Alistair Tutton Photography
(Click on image for larger image)