Material Selection for Railing Systems
Considerations for balancing image and performance
When selecting architectural material, a primary concern is picking a product to fit well within your design criteria–in which architectural railings are a critical part of the building envelope. The results must deliver the image populated with material elements that reflect the building owners set of design criteria. Essentially, the material has to deliver more than being decorative, it needs to perform relative to life safety demands, and fulfill your design in appearance and performance.
While aesthetics may primarily drive the decision, additional factors should be considered. Here's a deeper look at considerations for material selection for railing systems to balance image and performance.
MATERIAL SELECTION IN RAILING DESIGN APPLICATION
While many materials may be considered when designing a railing system, understanding the options for which applications are suited for is essential to ensure the railing system is structurally sound and maintains its integrity. It's important to understand the difference between the types of materials available in railing design applications and their respective benefits.
Use and Exposure—Many architects stand behind steel or stainless steel as the way to go to balance form, function and cost-value. It's flexible in terms of modern or traditional design, and it's long lasting and durable. But it's important to keep in mind the wear and tear your railing systems will experience. And different types of steel come with variance in cost and advantages. Carbon steel is on the lower end of the cost-spectrum, but offers low corrosion resistance. 304-grade stands up against standard corrosion, but doesn't perform well against harsh environments and it requires maintenance. 316-grade meets those challenges, but it comes at a higher price. If it's interior use, that doesn't necessarily mean carbon is the way to go. High traffic use can generate nicks, scratches and maintenance requirements. 316-grade due to low maintenance may still be the way to go.
Environmental Considerations—Too often, railing systems are drawn in without taking the local environment into consideration. Ignoring local geography, or project-specific factors has the potential to impact a lasting appearance. The installation environment, whether that be indoors or outdoors, is a critical factor in material selection. Indoor railing systems are most affected by the volume of traffic in its location which often requires tougher materials. For outdoor applications or those where extreme temperatures, precipitation or saltwater is present or chlorination as with pools, consider a material that will withstand the rigors of the environment. In this case, carbon and 304-grade are less likely to standup.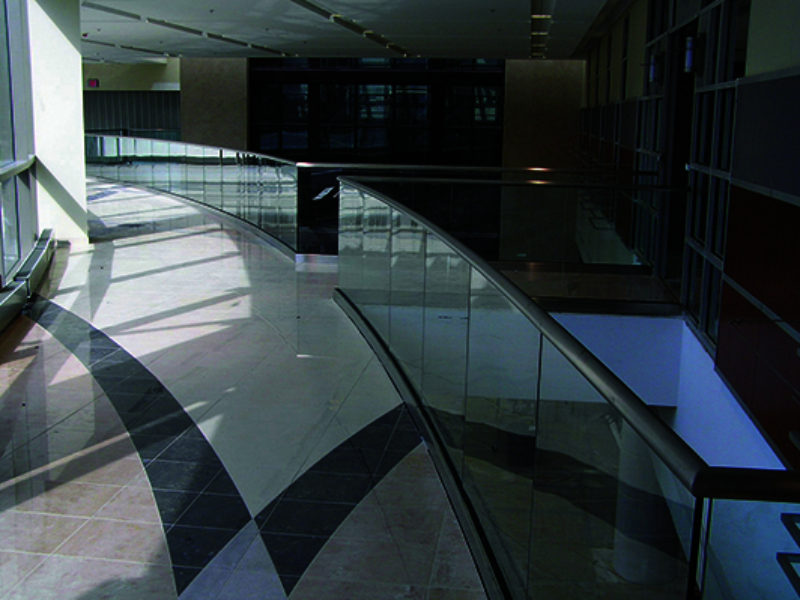 Damage Potential—Certain railing system applications experience higher-volume use, and must even contend with vandalism. Whether it is aluminum railings being dinged and damaged or lighted railing lights being kicked-out, issues associated with damage pose a real concern for maintenance and appearance. In this case, whether indoor or outdoor, attention to material performance and its ability to resist against scratches, nicks, dents and abuse will prove a top consideration. Here again, higher grade steel may be imperative even if more costly.
Load Requirements—Although steel is most popular, aluminum offers advantages for railing design as well. Non-welded pipe railing is specially designed to utilize all the advantages of aluminum; where strength, durability and no-paint maintenance is a key factor. Steel may be the presumed standard, When it comes to load requirements, aluminum systems may require smaller spans or reinforcement inserts making it a cost-saving material for railing systems.
Site Lines and Transparency—While daylighting centers on glass systems for creating the clean and open environments, open-lined design with cables can be a viable option to maximize the impact of natural light. Cables have become a popular component of railing systems to provide a sleek and modern look with a nearly unobstructed view of the surroundings. With the expense of glass including code-required tempered-laminated glass in many applications, cable offers a viable, cost-effective alternative including 316-grade for environmental considerations. Cable railings provide great aesthetics and flexibility for both indoor and outdoor settings, which can run horizontally or vertically and doesn't require the same ongoing cleaning requirements to maintain views that glass does.
IMPLICATIONS OF CODE COMPLIANCE
As railing system codes evolve, architects are tasked with the challenge of delivering on safety while designing aesthetically pleasing railing systems to meet the latest code requirements. It is often difficult to understand new code requirements for railing systems and how to balance desired aesthetics with performance standards to meet the needs of the customer.
Handrail Systems—With handrails being a standard safety feature to prevent falls, ensuring code requirements are met is a necessity in order to balance desired aesthetics with performance standards.
Handrails must be able to withstand a uniform load of 50 pounds per foot or a concentrated load of 200 pounds placed at the top of the handrail.
Handrail height is between 34 inches and 38 inches.
Handrail must be continuous within the full length of each stair flight or ramp run.
Handrail Brackets—With handrails providing guidance on stairs, there are certain requirements for strength and grasp ability. If the handrail is too close to the wall, an individual's outstretched fingertips would hit the wall preventing them from closing their hand into a power grip.
Guard Rails—A guard is required for the purpose of preventing people from falling over the edge. They are generally not required unless there is a 30-inch drop—which may vary by local Authorities Having Jurisdiction (AHJ).
In residential applications, the guard height minimum is 36 inches.
On a stair, since handrails must be between 34 inches and 38 inches, the handrail and the top of the guard can be one and the same.
Ramps—Are a useful application as they allow access for wheeled items such as wheelchairs and strollers to travel to another level, whether that is up or down. Because a ramp is typically part of the accessible means of egress, handrails are required.
Ramps with a rise greater than 6 inches high require handrails.
Ramp runs shall have a running slope not steeper than 1:12.
The rise for any ramp run shall be 30 inches maximum.
WORKING WITH A TRUSTED SUPPLIER
Railing systems are just one of many project costs you have to contend with. Understanding future maintenance needs, cleaning, painting, and upkeep costs when choosing which material is best for your application can save money long term. Take a deeper look at the factors influencing material selection and make sure you're looking at it job specific. From there, the best bet is to leverage your expert resources—which in the end provides the clarity and assurance needed, and saves valuable time in the design process.