On the Beauty Scale
Drawing inspiration from butterflies, a canopy and mural brings a touch of nature into the hardscape environment of Westmont
Two canopies provide shade and welcome at the entrance of Woodcrest Library in the Westmont neighborhood of Los Angeles. On the other side of the building, a mural engages the community and offers passersby a glimpse of nature in an area of Los Angeles that is devoid of parks or much greenery.
The project was part of a pilot program involving the LA County Arts Commission, LA County Supervisors and the LA County Library system. The goal was to combat graffiti problems. "Part of the pilot program," says Gloria Lee, principal at Swift Lee Office (SLO), Pasadena, Calif., "is to see what art can do to help people appreciate and create their public spaces for them."
Lee and her partner, Nathan Swift, won the commission for the project, which was a great fit for their practice that they describe as an architectural design lab and workshop.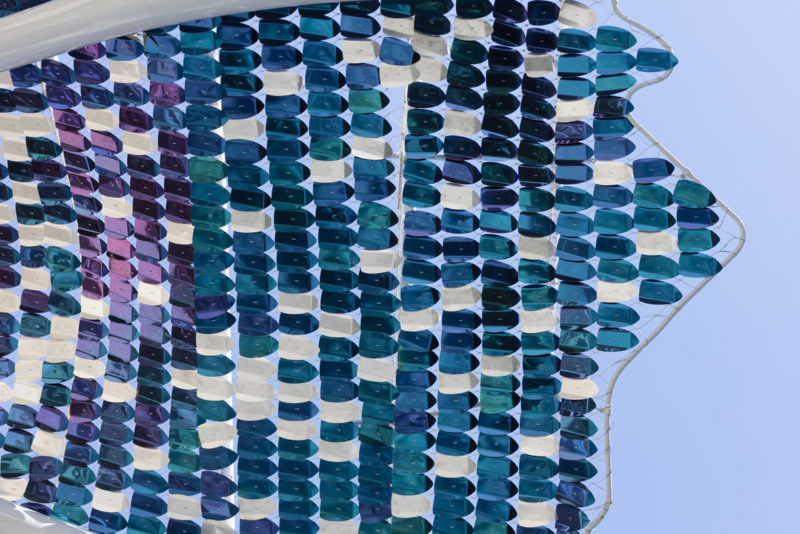 Caterpillar to Butterfly
"This small pocket of LA County is one of the most park-poor neighborhoods in LA," Lee says. "There's very little green and very little nature … We wanted to transform something that's so hard and harsh— that is artificial—to something more soft and that's about nature."
The firm engaged the community at an event and asked the children to conceptualize what they wanted. Working with a group called Trash for Teaching, Gardena, Calif., the children made projects out of recyclables and other items, and much of what they designed had a natural context.
"The butterfly is a very good metaphor for what at first appears to be so weak and ugly that can transform into something wonderful and amazing as a butterfly," says Lee. "That connection was made not just by us, but also by the neighborhood."
The Canopy
The two canopies are formed by tubular steel that have purlins fastened over top. Across the purlins is metal mesh from Carl Stahl DécorCable, Burr Ridge, Ill., and SLO employees fastened 2,200 stainless steel scales to the mesh. "Nathan invented a tool to install the scales," Lee says. "It twists and cuts and is connected to a drill. Five people worked constantly on it. A lot of work went into this. It made us that much stronger."
"The shape of the scales is directly from the butterfly as well," says Lee. "If you look at the wing in a microscope, butterfly wings look like this." The canopy shape was inspired by flowers which the firm 3-D scanned and then modeled for the flower form.
"We wanted the creative process to be part of this project so we could apply it to other projects," says Lee.
The thing that makes the project standout, though, is the iridescence of the scales. "We wanted to play with bringing more color, something more dynamic. The choice of the metal was key to doing that without just painting a bunch of different colors," says Lee. "The color was important to capture, and the color being formed with the sun reflecting off the stainless steel is just incredible. In fact, this is also how butterfly wings work too."
Millennium Forms, Elkhorn, Wis., provided the steel, and SLO used a water-jet cutter to make the scales. Each scale was bent and installed on site. The color is created using light interference color, which is an electrochemical process that thickens the chromium oxide that appears naturally on stainless steel. That thin film creates a prism that bounces off light and gives different rays of color. "We chose Peacock," says Lee, "which goes from magenta to a really deep indigo. That was really important to us."
The Mural
Continuing the butterfly theme is a mural along the street. The painted mural features scales of about eight different shapes and all kinds of sizes. Metal composite panels in the shapes of scales fasten to the mural. "It keeps passersby away from the wall and gives a 3-D quality to the mural," Lee says. "Sometimes a big mural is next to you and you don't even see the whole mural."