Virtual Vantage Point
Virtual reality's immersive environments are powerful new tools for architects and contractors
As virtual reality technology becomes more accessible, architects, contractors and others in building design and construction are discovering ways to leverage its benefits. The immersive environments are being used to communicate with prospective and contracted clients, and among construction team members. It is possible virtual reality (VR) environments will one day be commonly used during the creation of building models, not just for displaying completed renderings, as they are today.
James Vandezande, AIA, is director of design technology at St. Louis-based HOK Group Inc. Vandezande oversees the use of VR for HOK's 1,700 employees at 23 offices in North America, Europe, Asia and the Middle East. He estimates about a fifth of HOK's projects have models in VR, and expects it to continue growing. In fact, in March, HOK released an app for mobile devices with two 3-D modes to view project renderings: panoramic mode and VR mode (using a Google Cardboard or similar headset).
Tiered Usage
When explaining how HOK uses VR, Vandezande breaks it down into three approaches: small, medium and large. The app is the most basic, small approach. With it, a spherical panoramic rendering is created in BIM software. It can be displayed on VR headsets or, with the HOK app, on smartphones inserted into Google Cardboard headsets. Users get 360-degree views of static renderings.
In the medium approach, 3-D renderings are produced with game engine software. Architects and clients navigate the models with VR headsets such as HTC Vive.
In HOK's large approach to VR experiences, Vandezande says a virtual laser pointer or joystick is used to highlight points in a design or add notes.
HOK is using VR in varying degrees, in part, because the software also varies in capability, Vandezande says. The firm continues using Autodesk Revit to produce building models, and is in the process of evaluating several VR applications to create 3-D renderings: Enscape, Lumion and Twinmotion. "They all have different capabilities and different performances; we haven't really zeroed in on one as the best," he says.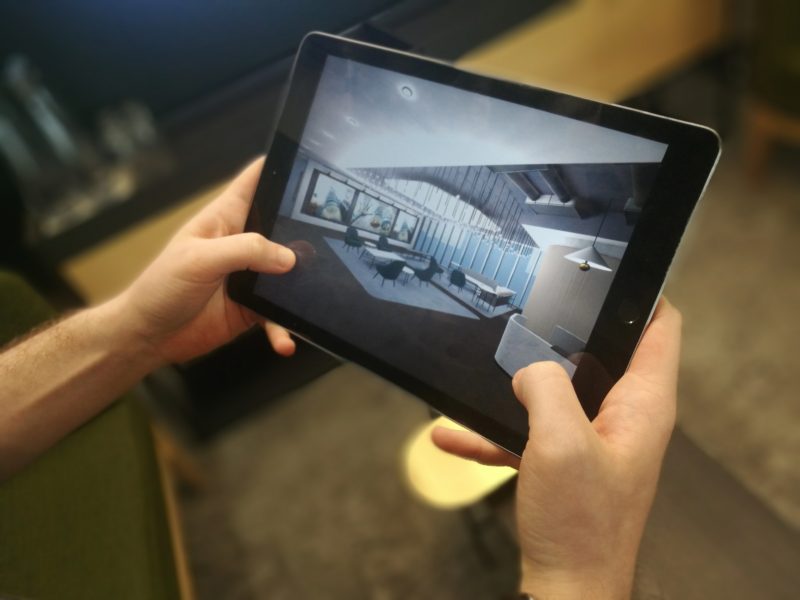 Bidding with VR
VR can be used to present design concepts during bidding, show progress, and review models during development and construction. Mark Norton, head of BIM at ISG PLC in London, says his company uses two groups of VR models, one group during bidding and another group during design and construction. Norton oversees the VR models used for construction (with BIM data), as well as other BIM models, for projects throughout the U.K. The construction services company has offices in Europe and Asia, and opened an office in the U.S. in 2017.
To build models to present prospective clients during the bidding process, ISG uses game engine software-based programs. "We create one model that's flat, 2-D on a screen, so you can walk through as you would on a Playstation," Norton says. "And then we've also got a model that's for an adaptive VR headset, where you walk through in 3-D realism. And now we're developing another model so you can walk through the rendering on an iPad."
Norton says the VR models give his company more precision than 2-D images when showing concepts to prospective clients. "You can physically create renderings with cardboard and provide beautiful illustrations, but if you immerse a client into the world that you're going to deliver for them, that becomes a great tool, really, because you're going to explain exactly what you can do and immediately create a connection."
Engagement and Management
ISG uses VR models for client engagement throughout projects and to communicate with contractors. In both instances, VR models are highly effective communication tools.
In one recent project, Norton says ISG presented a model in VR to a client to communicate the complexity of a roof assembly in a manufacturing plant room. "[The client] loved [the model in VR] so much he wanted more VR throughout the rest of the building; so then we ended up visualizing the restaurant and the catering areas," Norton says. "As soon as someone puts that headset on, there's a completely different spatial awareness that goes on, a completely different brain exercise."
ISG reviews VR models with contractors during planning meetings. For example, in one project, ISG used a VR model to quickly show team members how a large amount of mechanical ductwork and steel framing fit together, and the sequence of installation. Norton says the meeting would have been much longer and less productive without VR. "Sometimes 3-D walkthroughs on the screen can be a bit sterile. But if you immerse someone in VR, it becomes apparent very quickly. You can physically walk them through any potential issues before you set foot on-site."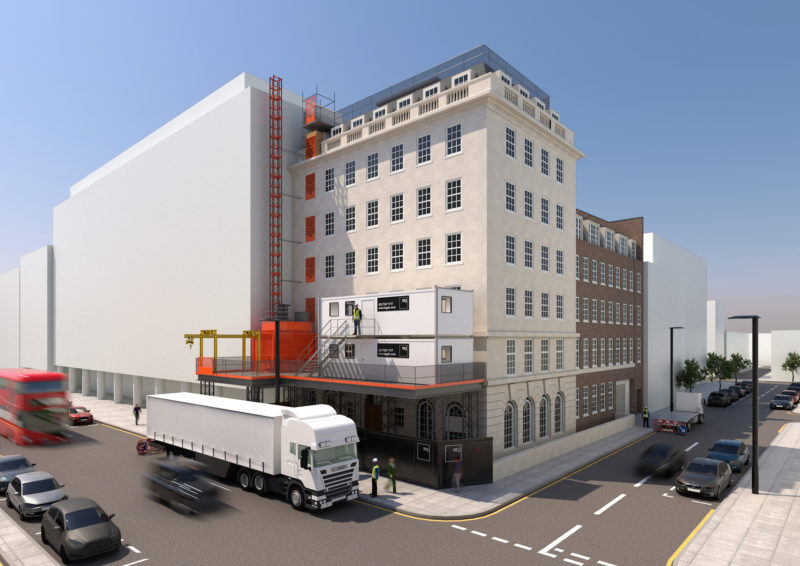 Earlier Details
Architectural models in VR require more work and data to produce than other kinds of models. They also have the potential to solidify more details earlier in the design process. "That's the power of getting our clients to understand what we're designing without having to make sure they understand the plans and the sections and the elevations," Vandezande says. "They're in their space, virtually speaking, and they can say, 'Oh, I like the scale of this,' or 'I think that opening should be a little wider, I don't like the flow between this space and that space, let's tweak that.' We can do that early in design as opposed to waiting until workers are out in the field setting up the studs, and the client says, 'No, I don't like the size of the space.'"
At the same time, because VR models take more resources to make, Vandezande says architects and others need to communicate with clients about what progress presentations will look like. Instead of weekly progress drawings, a fewer quantity of renderings in VR with a greater amount of data could be presented.
"In order for [the rendering] to be anywhere near presentable, you need to have a much higher level of detailed model to begin with than we would traditionally use for generating construction documents," Vandezande says. "Our upfront design process will take a little bit longer to get the model right, but I think you get exponentially better results, even though we're not having weekly deliverables. I think [VR models] will ultimately reduce the amount of rework that we typically do based on clients not really understanding the design until later on, or maybe never fully understanding it until building starts."
Future VR
Looking ahead, it is conceivable VR environments will become the place where models are created, not just displayed. Vandezande says the software and hardware that allows for building designs to be created in VR environments could be available as soon as 2019, but he anticipates the widespread adoption of it to take much longer.
"Being in a design firm, and being responsible for process and technology for designers, I know that there's an enormous cultural hurdle with [adoption of creating building designs in VR]," Vandezande says. "It's been years getting designers to switch out of designing in 2-D to just designing the 3-D modeling environment. So I think the switch from designing in BIM software to designing in virtual reality tools is probably something that's a little bit further off from a cultural perspective."