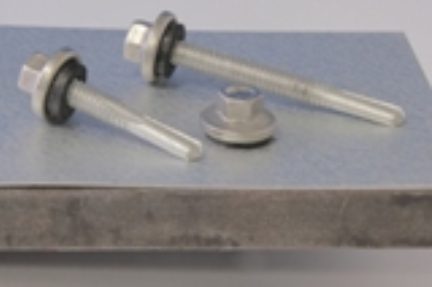 Fasteners featured in Metal Architecture's March 2016 issue.
Dynamic Fastener

Dynamic Fastener's multiple fasteners with a zinc cast head will not rust. They are made of Zamak-5 zinc alloy. The line includes pole barn screws, T-1 stitch screws, T-3 metal-to-metal screws, T-5 screws for structural steel and self-tapping screws.

ET&F Fastening Systems Inc.

ET&F Fastening Systems' Panelfast pneumatically driven pins are an alternative to traditional screw fasteners used in cold-formed steel framing. Panelfast pins attach wood structural panel sheathing to cold-formed steel framing to construct shear wall assemblies used to resist wind or seismic loads. ET&F Fastening Systems' pneumatic tools operate with portable air compressors are used to drive the high-carbon, heat-treated pins into steel framing as thick as 14-gauge.

Sealtite Building Fasteners

Sealtite Building Fasteners' Kwikseal WoodBinder penetrates multiple layers of steel at ridge caps and panel stitch applications. It is designed for post-frame and metal roofing panel applications. Kwikseal WoodBinder features micro-bit engineering and does not cause metal shaving pigtails that can embed themselves in ethylene propylene diene monomer rubber (EPDM) sealing washers.

Leland Industries Inc.

Leland Industries Serrated Flange Lock Bolts are available in sizes ranging from 1/4-inch by 3/4-inch, to 5/8-inch by 4 inches. They are produced with carbon steel or stainless steel and are offered in Grade 5 and Grade 8.2. Additionally, Serrated flange nuts are available.

Triangle Fastener Corp.

Triangle Fastener's #12-24 by 1 1/4-inch and 2-inch Blazer-5 stainless cap screws drill and tap steel, aluminum, stainless steel and steel substrates 0.125-inch to 0.5-inch thick. They feature a 304 stainless steel cap head, ethylene propylene diene monomer rubber (EPDM) washer and Tri-Seal 1,000-hour salt spray coating. The shank slot is designed to reduce tapping torque.