Roof Accessories and Snow Retention - June 2016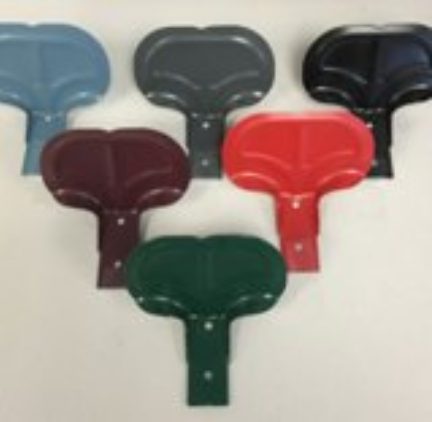 Roof accessories and snow retention products featured in Metal Architecture's June 2016 issue.
Action Manufacturing LLC

Action Manufacturing's Standing Seam Roof Anchor 1 (SSRA1) is available from Fall Protection Distributors LLC, the product's master distributor. The 4.5-pound roof anchor consists of a 6061-T6 aluminum body with 12 stainless steel set screws. The standard assembly includes a 5,000-pound D-ring for single-person attachment. SSRA1 fits more than 500 seam profiles. Optional adapter plates provide attachment for a variety of devices to standing seam roofs.

Alpine Snow Guards

Alpine Snow Guards ASG33 Standing Seam Pad-Style Snow Guards have oval point set screws to attach them without penetrating roof material. The flag-shaped snow guards feature a clamp-to-seam design that does not void panel manufacturer warranties. ASG33 Standing Seam Pad-Style Snow Guards allow snow and ice to drop in small amounts or melt.

LMCurbs

LMCurbs' roof walks attach to metal roof profiles without penetration, they mechanically attach to standing seam roofs. The roof walks have galvanized G90 coating and are weather resistant. They create anti-skid walkways and protect roofs from foot traffic.

Lyon Metal Roofing Inc.

Lyon Metal Roofing's stamped snow guards have a G-90 galvanized steel substrate. They are mechanically attached and may be used with many roof panel profiles. Stamped snow guards are available in 23 colors and powder coated with finishes.

Metallic Products

Metallic Products' Continuous Ridge Ventilators have a 26-gauge exterior with 24-gauge, 20-gauge and 18-gauge die-formed sheet metal internal components and machined parts. Standard throat sizes are 9 inches and 12 inches. A range of custom throat sizes and lengths are available.

Thybar Corp.

Thybar's Snow Dam has pre-punched holes for fastening to standing seams, which allow panels to move with expansion and contraction. Snow Dam is fabricated from 0.08-inch aluminum with all-welded construction and is installed with tape mastic between its base and a standing seam to create a watertight seal. It retains 2,000 pounds of un-melted snow and ice and permits water from melted snow to run-off roofs. Snow Dam can be painted to match roof panel colors.

TRA Snow and Sun Inc.

TRA Snow and Sun's Standing Seam Clamp-Ons for snow retention systems and solar mounting systems are custom manufactured to fit seam profiles. They clamp under hems, do not puncture roofing material and do not void roof warranties. Standing Seam Clamp-Ons are made of metal to avoid corrosion caused when connecting dissimilar metals. They are zinc plated and powdercoated to match roof colors. Fifty standard colors are available.