Standing Seam Roof Systems - May 2015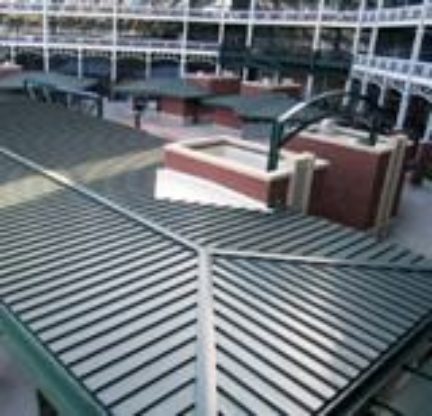 Standing seam roof systems featured in Metal Architecture's May 2015 issue.
American Buildings Co.

American Buildings' Loc-Seam 360 standing seam metal roof panels have a flat profile and are available with 12- or 16-inch width coverage and 2-inch-high ribs. The panels have 360-degree rolled seams formed with an electrical seaming machine. They are designed with cool coatings to reflect solar rays and reduce heat absorbed into the building.

The Garland Co.

Garland's R-Mer Shield structural standing seam roof system has a 2-inch vertical seam with an extruded aluminum clip and a top rail system for wind uplift performance. The panels provide isolation of the seam sealant from the clip and thermal expansion and contraction. R-Mer Shield includes mesas and pencil lines to help reduce oil canning.

Kingspan Insulated Panels Inc.

Kingspan Insulated Panels' KingZip standing seam metal roof panels feature a polyiso core for thermal performance and a high R-value. The airtight roof system is formed with insulated metal panels, is recyclable and may contribute to LEED and Path To Net Zero credits. The panels are made with low-weight metals and resist corrosion.

ATAS International Inc.

ATAS International's Above Sheathing Ventilation (ASV) creates an air space between the underside of metal roof panels and the roof deck. ATAS International's ASV-compatible roof panels include Dutch Seam, Field-Lok, Granutile, Techo Tile and ScanRoof. ASV may be used in in retrofits when metal roofing is installed over a previous roof system. New roofing projects can include ASV by specifying an appropriate air gap.

MBCI

MBCI's Ultra-Dek is a snap-together, trapezoidal leg standing seam roof system. Panels are available in 12-, 18- and 24-inch widths. Ultra-Dek requires a minimum slope of 1/4:12 and has air leakage and water penetration testing approvals.

Drexel Metals LLC

Drexel Metals' standing seam metal roof profiles include 2-, 1.5- and 1-inch profiles, 1.75-, 1.5- and 1-inch snap-lock panels, 5V panels, radius panels, cap seam and batten panels and Bermuda profiles. Metal roof accessories include the ES-1 certified perimeter edge system, metal roof system trim, domes, tapered panels and custom-fabricated products.

McElroy Metal

McElroy Metal's 238T standing seam roofing system is available with tapered and curved panels. The panels may be rollformed on-site to produce long lengths. The 238T has individual panel replacement capability, and wind uplift and strength characteristics.