Metal building supports hockey center design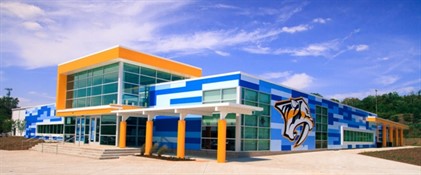 American Buildings Co. supplied a metal building system including metal roof panels and metal wall panels for Ford Ice Center in Nashville, Tenn. The roof was constructed with insulated standing seam roof panels in White and an ethylene propylene diene monomer (EPDM) membrane. The walls were built with insulated metal wall panels in White with an embossed finish. Acrylic and aluminum panels were also installed.
The LEED Silver-certified facility features two hockey rinks with meeting space overlooking them, locker rooms, outdoor skating space, skate rental area, concession area and gift shop. The 80,000-square-foot athletic facility was completed in September 2013. It is part of a public-private partnership between the Nashville Predators and Nashville city government.
Architect: Lose and Associates Inc., Nashville, Tenn.
General contractor: American Constructors Inc., Nashville
Builder: Choice Construction Inc., Nashville
Metal building system: American Buildings Co., Eufaula, Ala., www.americanbuildings.com