Metal dives into canopy entrance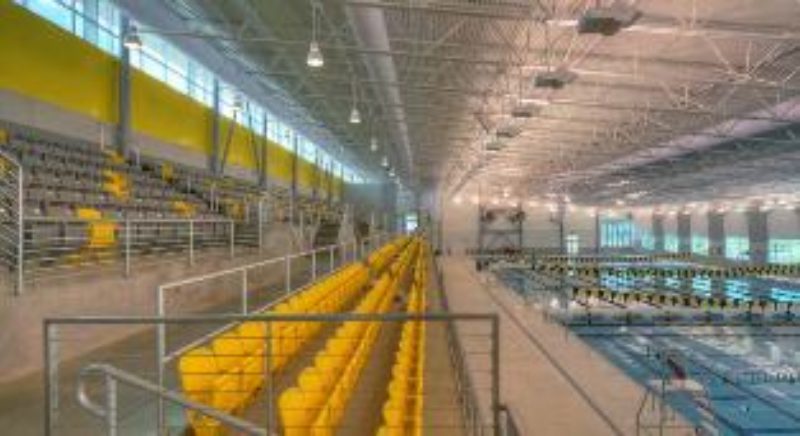 Columbus, Ga.-based 2WR + Partners' design for Columbus Consolidated Government's 57,000-square-foot Columbus Aquatic Center in Columbus, Ga., called for a canopy feature above the curtainwall at the main entrance. The floating canopy cantilevers over the top of the entrance and is held by a structure hidden above the entrance roof. Both elements required lightweight, flat cladding with sharp lines.
Michael Starr, AIA, LEED AP, principal and senior partner at 2WR + Partners selected Cartersville, Ga.-based Altech Panel Systems Inc.'s Accu-Trac DS rainscreen system with a Clear Anodic finish. Chesapeake, Va.-based Mitsubishi Plastics Composites America Inc. supplied its ALPOLIC aluminum composite material (ACM), which Altech Panel Systems fabricated into its Accu-Trac aluminum composite wall panel system, installed by SECO Architectural Systems Inc., Snellville, Ga. Additionally, Lancaster, Pa.-based Fabral supplied 6,700 square feet of non-perforated steel sheet in Silver Gray that Addison, Ill.-based ProFab Sheet Metal fabricated into concealed fastener panel systems for exterior walls and soffits.
Elk Grove Village, Ill.-based Petersen Aluminum Corp. supplied perforated, light-gauge flat aluminum sheet material that ProFab Sheet Metal fabricated into 2,300 square feet of ribbed perforated aluminum for screen walls installed by SECO Architectural Systems to conceal large dehumidification units on the roofs.
The form of the building was driven by dividing the programmatic elements into served and servant spaces. Swim functions were housed in a large, open volume clad in a stucco rainscreen system punctuated with south-facing openings covered by overhangs.
Building services were contained within more opaque brick and ground-face concrete masonry unit (CMU) flat bars. "The juxtaposition of materials and forms embodies the enigma of the hard confines of a pool versus the fluidity of swimming," Starr says.
Columbia, S.C.-based Metal Dek Group, a division of Construction Specialties Inc., supplied more than 41,000 square feet of its Versa Dek 2LS for a perforated long-span acoustical roof deck that provided structure and noise control. The roof deck was installed over long-span steel joists spanning 143 feet.
A prime coat of Kansas City, Mo.-based Tnemec Co. Inc.'s Hydro Zinc Series 94 was shop-applied to the 20-gauge, perforated, G90-galvanized roof deck. An intermediate coat of Tnemec Hi-Build Epoxoline II and a field-applied finish coat of Tnemec Endura-Shield Series 1080 were also applied. The coating system protects the roof deck and exposed structural steel from the corrosive pool environment. Additionally, the water-based formulation protects occupants from volatile organic compounds normally found in such systems.
More than 75 percent of construction waste was diverted from landfills and recycled, and the project is tracking LEED Gold certification. "The column spacing of 20 feet allowed for soffit panel end-laps to occur at points that made visual sense with the design," Starr says. "The location and number of reveals in the concealed fastener panels was modified to allow full 20-foot sheets to be used without cutting, reducing waste."
Brasfield & Gorrie, Columbus, Ga., was the general contractor.
ALPOLIC by Mitsubishi Plastics Composites America Inc., www.alpolic-americas.com
Altech Panel Systems Inc., www.altechpanel.com
Fabral, www.fabral.com
Petersen Aluminum Corp., www.pac-clad.com
Metal Dek Group, a division of Construction Specialties Inc., www.metaldek.com
Tnemec Co. Inc., www.tnemec.com