Steel heightens pool building design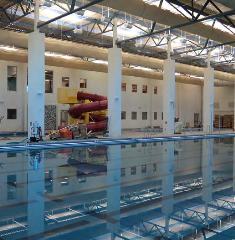 Knoxville, Tenn.-based Denark Construction Inc. constructed the 55,500-square-foot Kingsport Aquatic Center, Kingsport, Tenn., with K-Series steel joists and girders supplied by Charlotte, N.C.- based Vulcraft/Verco Group, a division of Nucor. Spanning 100-foot girders allowed heating, AC and ventilation room to pass through web openings, which provided the required ventilation without compromising the facility's clear heights.
Opened in spring 2013, the 40,000-square-foot YMCA Wellmont Center was also constructed as part of the 96,000-square-foot, $20 million project. The YMCA Wellmont Center houses a child watch area, family adventure center and indoor playground, two wellness areas, three group exercise studios, gymnasium, three main social areas, multipurpose room and locker rooms.
Lose & Associates, Nashville, Tenn., was the architecture firm, and Henard Metal Fabricators Inc., Kingsport, was the fabricator. Kingsport Aquatic Center includes an Olympic-size, 50-meter pool, 25-yard warm pool with zero-entry ramp and indoor recreational pool with water slide.
Vulcraft/Verco Group, a division of Nucor, www.vulcraft.com