Metal roof selected to withstand Maine climate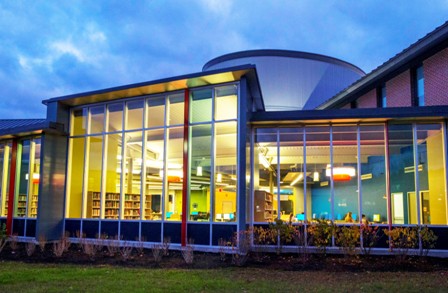 IRC Industrial Roofing and Siding Co. installed approximately 15,000 square feet Englert Inc.'s 24-gauge Series 1300 standing seam metal roof panels in Charcoal Gray on the Alfond Academic Center at Thomas College in Waterville, Maine, completed in September 2014. Bernie Lappe, project manager at Connor Architecture, says the metal roof was selected for its ability to accept snow and withstand Maine's climate. "We also chose it for its clean aesthetic look consistent with the overall design of the building," he says.
The 35,000-square-foot academic center features a library and learning commons, classroom and lab facilities, faculty and meeting rooms, peer mentoring and tutoring spaces and support facilities including a café, boardroom and archive-storage spaces.
Lappe says the red brick, aluminum panels, glass and standing seam metal roof panels used in the project create a new language for Thomas College. "[The project is] an expression of the new exciting attitudes towards student life on campus, changing the image of Thomas [College] for decades to come," he says. "Great care and attention was placed on creating a more sophisticated design aesthetic, one that was sympathetic to the student campus environment, as well as surrounding natural environment. Beyond the need to keep the harsh winter climate at bay, the exterior skin of the building became a branding tool. The building finishes themselves became an opportunity to communicate and define not only the architectural character of an individual structure, but the values of an entire institution."
Architect: Connor Architecture, Lexington, Mass.
Installer: IRC Industrial Roofing and Siding Co., Lewiston, Maine
Metal roof panels: Englert Inc., Perth Amboy, N.J., www.englertinc.com