Durham City Hall, Durham, N.C.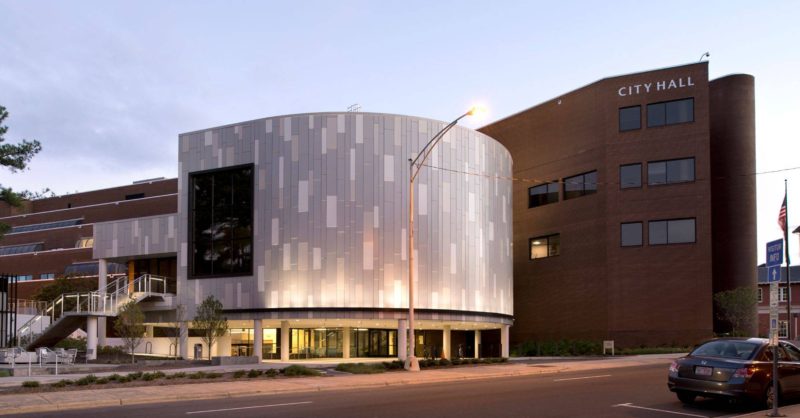 A complete exterior and interior renovation was needed for Durham City Hall, which opened in 1975. Looking for a material that would require minimal maintenance, soften the building's feel and give the structure a strong presence, the design team selected metal wall panels from Dri-Design.
"The desire to have a rainscreen system where the water barrier was behind the metal panel with few caulk joints was important to the design team," says Rhonda Zack, project manager and designer at Roughton-Nickelson-DeLuca Architects.
The Dri-Design panels have an interior gutter system that keeps rainwater off the face of the panels, directing flow through the gutter system to the bottom of the screenwall. "The panels interlocked and made for a tight rainscreen that would stand up over time," Zack says.
The original city hall façade was a cementitious aggregate panel. The weight of the panels caused sagging and open surfaces for water to penetrate the building, leading to leaks and water damage. The openings had been caulked many times, but water continued infiltrating the building.
After the cementitious panels were removed, Balfour Beatty US, general contractor, and SPS Corp., installer, determined how to use the original framing for the metal wall panel installation. Due to leaking and sagging, the framing was out of alignment as much as 4 inches over three stories in some areas. Additional framing was worked into the existing framing to create a straight panel installation.
For the walls, 23,535 square feet of post-painted aluminum wall panels were installed. The primary color is Dorian Gray; Agreeable Gray, Amazing Gray and Dark Bronze panels were also used.
"The design of the new façade has brought new attention to a building that was neglected for far too long," Zack says. "The design team took the opportunity during this re-design to soften up the brutalist language of the original design and add more pedestrian-friendly areas so that the city hall would feel like a building for the people. The metal panels allowed us to bring the look into the 21st century with a durable product that allowed for a variety of design options."
The project was completed in 2015 and won two awards: the People's Choice Durham Golden Leaf Award and Adaptive Re-Use Durham Golden Leaf Award.