At the Coon Rapids, Minn.-based Mercy Hospital, visitors, patients and staff had to park in surface lots away from its main entrance and emergency room entrance. To shorten this distance and to accommodate a surge in increased area visitation, a new parking rampand expanded operating rooms werecreated. This was part of hospital owner Allina Health's goal of accommodating the increasing number of patients with a larger health services space, easy access main entrance and more parking. All part of a larger plan to upgrade and strengthen its overall health care services.
Perforated metal retrofits a parking ramp for hospital healing
HDR's Minneapolis Studio was the project's architect and designer of the addition. HDR was part of a collaborative partnership called Mercy-ALIGNED. Stressing integrated project delivery, this fully integrated, multidisciplinary team consisted of architects, health care consultants, clinical partners, designers, engineers, specialists, estimators, schedulers, constructors and trade partners.
ORDINARY TO EXTRAORDINARY
"'Ordinary to extraordinary' is what we told our clients," says Isaac Bros, AIA, NCARB, project architect at HDR. "Mercy Hospital was bursting at the seams and needed to relocate its front entrance to the opposite side of the campus to create a connection between the new parking garage and the existing campus. In doing so, it needed this entry to be grand and intuitive to really pull people in, and the parking garage couldn't just be a concrete box."
Minneapolis-based Allina Health wanted the parking ramp to look modern, and match the flow of the rest of the hospital instead of looking like a separate plain parking structure. Original design goals set out to make this revamped 300-stall parking garage a campus icon and provide a new front door to the facility. Bros says being the front door, the team needed to create an iconic parking ramp that didn't look like a parking ramp. Adjacent to the Mississippi River, the design of this garage façade draws inspiration from river sediments.
DURABLE AND BREATHABLE SKIN
Metal was selected because of its modern shine, breathability and interior/exterior versatility. "The use of metal panels allowed the team to design a durable and breathable skin that is a dynamic screen for the cars inside," Bros says. "The skin is composed of five custom perforation types derived from an image of local rock sediments."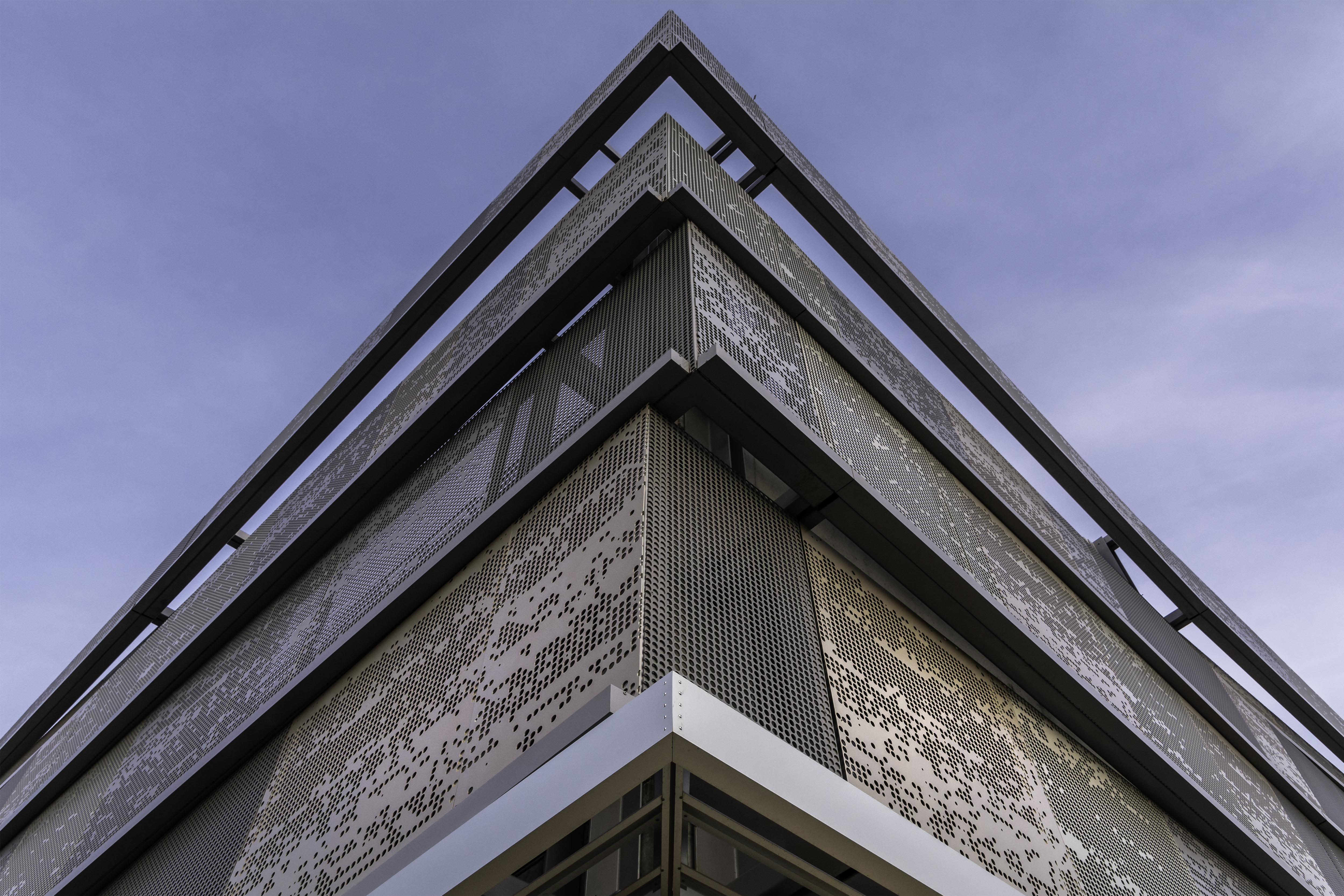 Maplewood, Minn.-based MG McGrath supplied a perforated metal skin that softens the hard lines of the parking ramp and reflects the vitality of the rest of the hospital. This perforated metal enclosure gives the parking ramp this desired modern feel while still complying with circulation and venting requirements.
Using Reynobond aluminum composite material supplied by Arconic Architectural Products LLC, Eastman, Ga., MG McGrath custom perforated 12,000 square feet of 3/16-inch steel and then fabricated the material into panels. The panels were then custom powder coated by Lino Lakes, Minn.-based Twin City Powder Coating and installed on the exterior of the parking ramp. The parking ramp's structural engineer was Walker Consultants, Tampa, Fla.
"The custom perforation is an actual image created by HDR," says Luke Rasmussen, project manager at MG McGrath. "The image was then modeled and projected on the available material sizes to create panel types. There were five original 'mother' custom perforated panels that were then cut to achieve individual panel sizes required for the aesthetic of the project."
Many ideas arose for the aesthetics of the parking ramp, but ultimately the material needed to be weather resistant, structurally sound and properly vented for car exhaust. The ventilation requirement was one that many other materials (besides metal) could not meet without sacrificing durability or weather-resistant sturdiness. Aluminum and steel perforated metal ended up being the best choice because it provides the ramp with a modern feel, gives off a vibrant luster, and meets all requirements for air circulation and strength. The ramp's perforated metal spans into the main entrance of the hospital and connects the two structures with a continuous artistic appeal.
A PATIENT'S JOURNEY
Today, Bros says the new parking garage helps bring visitors, patients and staff steps away from the new main entrance tower of the Mercy Hospital Campus. "The patient's journey becomes the focus for healing where the interior forms guide and direct visitors through the hospital to various key connections taking cues from the winding river landscape to their destination. The metal panels have been so successful at obscuring the parking ramp, the hospital is adding more signage to inform visitors you can actually use it to park inside."