Perhaps the best way to learn is to do. That's the concept behind a student design competition now in its second year that keeps students engaged by creating unique metal building designs. "Year two was a spectacular success for the Student Design Award Competition sponsored by the Metal Building Manufacturers Association (MBMA)," says MBMA Director of Research and Engineering Lee Shoemaker, Ph.D., PE. "The design competition continues to introduce metal building systems to architecture, engineering and design students, and to also help faculty to learn about the qualities of metal buildings. It's exciting to see the creativity and enthusiasm from schools large and small."
Offering $28,500 in cash awards to students and faculty, the program attracted 48 entries from U.S. colleges and universities, as well as an entry from Guatemala.
This year's contest challenged students to create an innovative metal building design for a municipal fire station. The criteria required the students to design a facility that could serve the community with the functions of full-service emergency medical service and emergency fire response. Additionally, the parameters called for a public space for a museum and memorial and rooms to accommodate a regional training facility.
MBMA provided the teams with complete building specifications and a detailed description (with square footages) for the primary functional elements, such as interior and exterior public areas, crew living spaces, apparatus bays, etc. The students were also challenged to incorporate features that would "embody the city's commitment to environmental responsibility and incorporate sustainable strategies into the way that the building is designed and operated." In particular, the structures should exemplify the sustainable benefits associated with metal building construction.
"We didn't just leave the teams to 'sink or swim,'" explains MBMA General Manager Tony Bouquot. "We provided a wealth of resources on our education website, MBMAeducation.org. We shared technical reports, informative videos, resource links and relevant case studies. We even created a series of educational folios specifically for college students to help them understand how architects can use metal building systems to embody the attributes of form and function."
Bouquot says that the website and teaching tools were further underpinned by the energetic members of the competition jury who fielded questions and provided input to student teams. "The jury was exceptional because they embody a cross section of types of expertise," he says. Bouquot notes that the jury includes professors, practicing architects and senior staff from metal building manufacturers and suppliers.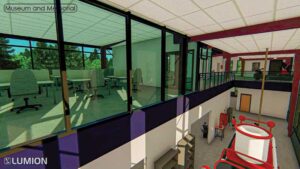 Excellence exemplified in student designs
All winning teams and their projects are exhibited with photos, renderings and presentation videos on the Awards page at MBMAeducation.org. Below are two examples of the quality and craftsmanship provided by the competitors.
First Place in the Undergraduate category went to the Tree City Team from Kent State University. Led by Faculty Advisor Robert Kobet, the student participants included Harris Cheifetz, Sarah Joseph, Jaret Lesure, Aaron Muth and Gunnar Norberg. Here are some of their thought-filled insights as described in their video presentation, available for viewing on MBMA's education website.
Top winner
This year's Overall Winner is Bobby Buttrick from the University of Massachusetts–Amherst, who was guided by Faculty Advisor Stephen Schreiber. In his presentation, Buttrick defines "parallel places [that] seem to take advantage of the tectonic capabilities of the metal building system to bridge it with the unique and active program of a fire station." Below you'll discover some of his design perspectives and the way that he marries divergent spaces.
Professors' perceptions
Stephen Schreiber not only served as Buttrick's faculty advisor, but also oversaw the work of several other University of Massachusetts–Amherst student teams. He also chairs the University's Department of Architecture. Prior to the competition, Schreiber had little experience working with metal buildings. "I have worked with small-scale metal building systems in practice, but not very much," he explains. But things changed once he got involved in helping the students with the competition. "My students and I learned a lot," he says. "The MBMA provided good resources, Package Steel Systems in Sutton, Mass., led a tour of their facilities and answered students' questions, and structural engineers Len Morse-Fortier and Kara Peterman (both whom teach at UMass) provided really useful input. I actually ended up on the dissertation committee for a Ph.D. candidate, Div Kapoor, who is doing metal building systems research."
Schreiber says this exercise helped him see that "metal building systems are everywhere! While commonly associated with back of the house buildings (barns, storage, warehouses), they are increasingly used for high design, front of the house buildings. Because of this competition, we discovered many wonderful buildings that are museums, galleries, fire stations, rec centers," he says.
"Our students now see the world differently."
"I am amazed about how much my students learned about putting together any building (structure, skin, mechanicals, etc.) because of this competition," he adds. "It was the right size, the right program and the right time. And the MBMA team was so helpful in providing introductions, resources and webinars."
Robert Kobet, who was advisor to the winning Kent State team, is an adjunct professor in Kent State's College of Architecture & Environmental Design. Previously, he served for decades as president and CEO of the Kobet Collaborative, an architecture and consulting firm specializing in sustainable design and development, high-performance green buildings, LEED consulting and environmental education. Kobet has completed a wide variety of projects in 11 countries on five continents. "I have practiced for over 40 years and have seen numerous structural steel strategies and enclosure systems," he says. "This includes a variety of fairly utilitarian storage systems, as well as a number of institutional buildings." He has experience with metal buildings as well as space frames and conventional steel truss components.
Even so, Kobet says he learned some new things through the competition experience, "but not as much as our students did! They learned a lot. The most valuable thing for me was the research the students did on case studies or precedents, and our trip to the local fire station to see how their station was built. It resonated with the intent of the competition."
Kobet was particularly impressed with how receptive the students were to the sustainability qualities and attributes of steel construction. "They were familiar to me because of my involvement with the USGBC and LEED certification," he says, "but we talked a lot about embodied energy versus longevity, the amount of recycled content in steel, and how—if designed correctly—steel structures can be designed for disassembly."
Kobet says the design awards competition was particularly rewarding for him because he teaches Methods and Materials courses. "The competition was an effective teaching tool," he says. "I am always looking for ways to generate interest in my subject matter and for opportunities to teach spherically about how things relate. My involvement enabled me to promote the relationship between structures, methods, construction management, LEED and high-performance green buildings."
He also offered a shoutout to the team at MBMA who spearhead the competition. "Your competition was a great experience for our students, and I value the time you all put into producing it," he says. "Thanks for all you do, and for your very valuable and rewarding way of promoting sustainable design."
Linda Mastaglio is the founding principal of Thoughts, Words & Images, a public relations firm serving the architecture/engineering/construction industry for nearly 30 years. Follow her on LinkedIn at www.linkedin.com/in/twipr/