Metal is making serious inroads in commercial projects as an interior finish. A range of products from wire mesh, coil and fabric to curved panels and materials repurposed from demolition are showing up in hotels, restaurants, bars, corporate offices, universities and even cruise ships. The trend has gone a long way toward banishing the perception that metal is cold, rigid and inappropriate for interior use.
Metal products are being used in creative ways that enliven commercial interiors and engage people visually
Metals are versatile and durable in many applications, and typically more cost efficient than wood, drywall and other materials. They can do more than serve as column covers, partitions and drop ceilings. Some of the more innovative uses, such as murals, floating ceilings and wall panels with embedded digital images, end up becoming the focal point of the building. Both custom and off-the-shelf solutions abound, and a vast number of textures and patinas are available.
"Architectural metals are a world that has not been well explored," says architect Lou Krupnick, AIA, associate principal at Page in Washington, D.C. "You can do so many things with them, the way they play with light and create forms. Whether it's coil or woven fabric or perforated metal, it can do things that other materials can't."
It's a misconception that all metal interior finishes must be custom made, says Murray Sandford, president of Móz Designs, Oakland, Calif. "We do a lot of custom work, but we also offer standard [products] that hopefully simplify the install and keep the price reasonable," he adds.
Metals also have a potential for upcycling that makes them a sustainable choice for commercial interiors. DMAC Architecture, Evanston, Ill., has recycled metal conveyor belts from food-service vendors into wall and ceiling treatments and other artistic expressions.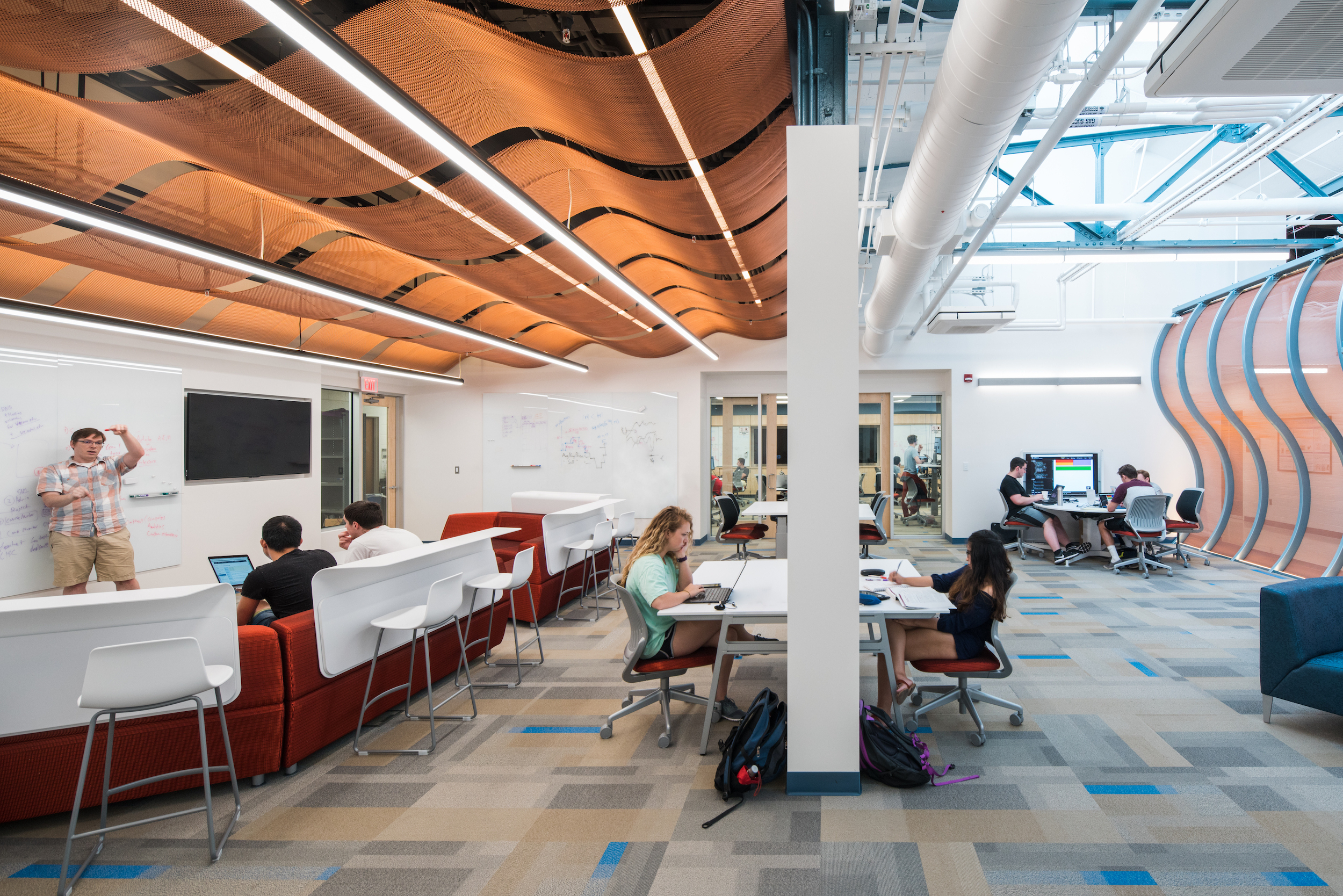 Meshing Well
Woven and welded wire mesh is proving to be a timeless material, says Harrison Horan, vice president of Banker Wire in Mukwonago, Wis. The product, which has industrial roots, has been manufactured by Banker Wire for more than 120 years and can be crimped and woven into custom, intricate and interesting patterns for both functional and decorative purposes, he says.
"We've seen countless creative applications of it in everything from restaurants and private residences to retail stores and offices," Horan says. "For example, we have mesh patterns that complement the aesthetics of a 150-year-old restoration project, whereas other mesh patterns are better suited for a sleek, modern ambience."
The material offers an infinite range of textured transparencies that provide natural metallic reflective colors or painted colors, says Horan. "Provided the mesh is finished with a perimeter frame, it's a safe material and extremely durable for even the harshest environments."
For the Louisiana State University's (LSU) Recreation's (UREC) new Student Recreation Center in Baton Rouge, La., architectural firm HOK, Kansas City, Mo., utilized Banker Wire's woven wire mesh as infill panels for the railings used throughout.
"The challenge was finding a guard infill stout enough to not deform from use," says Gene Lund, project architect at HOK, explaining that in recreation centers, the railing is often used as an impromptu stretching station. Banker Wire's product was material was opaque enough to act as a safety component but transparent enough to maintain clear lines of sight with visual appeal. "It's both elegant and durable," Lund says.
Metal products can be used in a dynamic way, creating movement within spaces. Page designed coiled-wire fabric walls and ceilings for the iSuite at the University of Delaware College of Electrical and Computer Engineering in Newark, Del. The iSuite is a former metal foundry that was transformed into a combination cyber range, collaborative hub, and makerspace by the undulating fabric, which is called Fabricoil and made by Cascade Architectural, Tualatin, Ore.
"We've seen metal fabric draped as a catenary before, but this is the first time someone has used Fabricoil in the wrong direction," says Krupnick. "We reversed the fabric and used its tensile properties to produce a curve that way."
The iSuite features 750 square feet of 5/16-inch, 15-gauge aluminum Fabricoil with a powder-coated, satin copper finish. The resulting ceiling treatment produces "true curves," with the coiled wire fabric wall constructed in a similar fashion.
"Coiled wire fabric really fit into the electrical genre of the collaborative space," says Krupnick. Hovering over the collaborative hub, the fabric weaves through roomwide lights providing a well-lit atmosphere and effective light diffusion throughout. It also adds dimension to the space without obstructing views for students and faculty, he says.
While the fabric has been used as a wall hanging or drape in other commercial settings, the architects wanted to give it a unique shape. Page used 3-D printers and a student-created virtual reality model to create a half-scale mockup that Cascade Architectural used to fabricate the wall and ceiling treatments. It's not just another suspended acoustical ceiling.
"What we did was fairly cost effective," Krupnick says. "We took something that at the low end is considered fireplace screen, which is a utilitarian use for that material, and experimented with it."
Metal as Art

The versatility of metal as an interior element is celebrated in a campus mural at Lone Star College- Kingwood in Houston. The mural occupies the new Process Technology Building, the first addition to a Campus Center located in a large industrial development. EYP Architecture & Engineering, Albany, N.Y., was the architect, with interior design by Perkins+Will.
The mural, which is made of perforated metal, also serves as the backdrop for a social gathering space for students, staff and faculty, thanks to a built-in bench seat for visitors. Perforated metal was chosen intentionally to utilize a versatile industrial material in a uniquely modern way, explains Sandford. Móz Designs fabricated the solid-core, 4-foot by 10-foot aluminum sheets for the mural.
"We use aluminum because it's clean and lightweight and easy to form," says Sandford. "And we use solid core so we can have different gauge thicknesses. It's not a laminate that's thin and can be dented easily."
One big trend he has noticed with metal as an interior finish is the embedding of digital images. For one project, Móz Designs created a weave-wall panel system and square column covers with custom digital images of fish. Earth tones are also hugely popular right now, Sandford says. "Blue-blackened steel and minerals are big—gold and silver and titanium. We really are creating an art palette with metal as the material."
He especially likes doing hospitality projects because clients are eager to push the limit. "We like to create radius walls and ceilings because they've got depth and movement," Sandford says. "Whether it's rolled or tapered or trapezoidal in shape, it's more fun than a flat wall panel or a drop-in ceiling."
Another plus is the large number of finishes available for metal products. "They're impact resistant, as durable as a car finish, and come with 10- to 20-year warranties. You don't need abrasive substrates to clean [them]," he adds.
Textures are available that make aluminum look like wood. Extrusions or perimeters for ceilings, which used to be made of wood and had to be primed and trimmed, are being fabricated with less costly, more malleable aluminum.
Sandford echoes Krupnick's words, declaring, "We can do anything with metal. It's sustainable. It's lightweight. We can make it look warm; we can make it look inviting. There are ways to create modular shapes and beautiful, organic finishes on metals."
Clever Repurposing
DMAC Architecture likes to use metal finishes in imaginative ways, particularly in restaurants and hotels. The repurposing of materials is a recurring theme in DMAC's work. Recent installations include a room divider in a restaurant made from 4-inch diameter steel pipes that were cut in 6-inch lengths and stacked. The divider is 30 feet long, 4 feet tall, and "very permeable," says DMAC principal Dwayne MacEwen, AIA.
For another eatery, the architects used salvaged peanut oil barrels as receptacles for light fixtures. "The barrels had a natural patina from the oil, so the [light] has this wonderful amber hue," MacEwen says. Old metal floor grilles in a speakeasy in Chicago were recycled for a backlit panel behind the bar. DMAC also created a mural consisting of 256 rectilinear pieces of copper; the architects designed the graphics, then worked with a metal artist who created different shapes and shades of blues and creams.
DMAC has used perforated metal for ceilings, often backed with sound-deadening material to achieve a more industrial look along with the performance of an acoustical ceiling. MacEwen says patinas can be applied to metals like Corten steel and materials with a higher copper content to change the look. "We've been edging the copper with blues and greens, giving it an almost painterly effect," he says.
One recent tour de force is a 40-foot trellis that DMAC designed for the new Midtown Athletic Club in Chicago. The trellis guides guests upward from the reception lobby to a communal hub called the landing pit. It's 40 feet long and 20 feet wide and was fabricated in 8-foot modules. Oak panels that once graced the original club's locker rooms were reclaimed, refinished and cut for infill within the new trellis. Copper panels from the fireplace hood were also salvaged, cut and folded to fit within the metal screen. The two materials were arranged in a harmonic pattern like jewels and interspersed with traces of bronze mirror.
"Seventy Edison lamps are suspended through the gaps of the trellis, providing a sense of lightness while paying tribute to the club's storied history," says MacEwen.